Extend Application Ranges with New VUTEk Printers from EFI
New Superwide UV Printers Expand Popular GS, QS Families of Printers
Amsterdam, the Netherlands

, (PresseBox) -
EFI(TM) (Nasdaq: EFII) today announced two new additions to their line of industry-leading VUTEk® superwide format UV printers, the GS2000, a revolutionary 2-metre hybrid that delivers photorealistic quality at incredible speeds without compromise, and the QS3220, a 3.2-metre hybrid printer with High Definition Print (HDP) technology and an extended application range.

The EFI VUTEk GS2000 - No Compromises
Photorealistic Quality

The GS2000 delivers incredible photorealistic quality, extending the application set of superwide printing. EFI VUTEk's Dual Resolution Capability enables true 600 dpi with 24-picolitre drops and true 1000 dpi with 12-picolitre drops, and can print in eight colours plus two channels for white. The GS2000 is perfect for traditional 2-metre applications such as banners and signs, as well as detail-intensive applications such as stunning Point-of-Purchase (POP) displays.

Incredible Productivity

In its Fast-5(TM) mode, the GS2000 prints eye-catching four-colour plus white graphics at speeds up to 186 square metres per hour. This EFI VUTEk exclusive printing mode positions owners of the GS2000 to compete with commercial production printers, as it makes same-day order-to-delivery a reality. For more demanding POP applications, switch to the GS2000's eight-colour plus white mode and print absolutely stunning images at speeds up to 93 square metres per hour.

Uncompromised Versatility

The GS2000 prints on a broad range of flexible and rigid substrates, and its hybrid belt design enables effortless changeover from rigid to roll-to-roll in minutes. The flexibility and application range provided by this printer make it the perfect substitute for wide and superwide format printers in print shops, and the options for shorter runs, higher speeds and superior quality give the VUTEk GS2000 the highest return on investment in the industry.

"EFI VUTEk printers have set the standard for superwide printing for over 20 years, and these two new printers continue that tradition," said Chuck Dourlet, vice president of marketing, EFI VUTEk. "The GS2000 is a 2-metre addition to the industry-leading GS family of printers, which was announced in March with the GS3200 3.2-metre hybrid UV. The GS2000 delivers the same photorealistic quality, revolutionary productivity and uncompromising versatility in a 2-metre table width. The QS3220 is a major advancement from our popular QS3200 printer, with many improvements including increased vacuum pressure and enhanced media handling for expanded media choices, and standard QS Series 2 inks for incredible quality and durability."

The EFI VUTEk QS3220 - More Applications for Greater Profits
High Definition Print Quality

Using EFI VUTEk's innovative HDP technology, the VUTEk QS3220 prints eye-popping images up to 3.2 metres wide at 1,080 dpi. Text is printed cleanly and crisply, and EFI's Fiery® XF RIP solution ensures consistent, accurate colour and reliable output. Perfect for Point-of-Purchase (POP) and high-quality retail signage, the new QS3220 delivers the same unmatched quality that VUTEk customers have come to depend on, with expanded opportunities for new applications on new materials.

Blazing Speeds

For stunning images of the highest quality, the EFI VUTEk QS3220 prints in six colours plus white at speeds up to 84 square metres per hour. The VUTEk QS3220 improves businesses' reputations for excellence as it accomplishes fast, high-definition printing that increases the amount and quality of work that a business can accomplish.

Extended Application Range

The EFI VUTEk QS3220 uses specially developed QS Series 2 UV inks, which provide more durability and improved flexibility for brilliant inks that won't crack or chip and are optimised for a wider range of substrates. Improved input and output tables with increased vacuum pressure for more flexibility in media choices, and the optional heavy duty unwinder give the QS3220 the power and flexibility to print to problematic media.

"We provide our customers with the opportunities for business growth, no matter what the economy looks like," added Dourlet. "Based on the speed, quality, and wide range of applications that these new VUTEk printers can produce, customers that invest in these new systems will see those opportunities."

The 3.2-metre VUTEk GS3200 and QS3220 and the 2-metre GS2000 are available for order now. Visit EFI's stand, Hall 1-A20, at FESPA Digital Europe, Amsterdam, the Netherlands to see how these printers can jump-start your economic engine.

For more information about EFI VUTEk superwide printers, visit www.efi.com
EFI Germany
EFI (www.efi.com) is the world leader in customer-focused digital printing innovation. EFI's award-winning solutions, integrated from creation to print, deliver increased performance, cost savings and productivity. The company's robust product portfolio includes Fiery® digital colour print servers; VUTEk® superwide digital inkjet printers, UV and solvent inks; Rastek UV wide-format inkjet printers; Jetrion® industrial inkjet printing systems; print production workflow and management information software; and corporate printing solutions. EFI maintains 23 offices worldwide.

Press releases you might also be interested in
Weitere Informationen zum Thema "Industrial Engineering":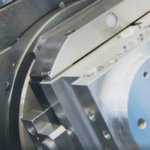 Eine offene Brücke für Big Data
Es klingt ganz ein­fach: In­du­s­trie 4.0 be­nö­t­igt Tech­no­lo­gie 4.0. Doch was ge­nau zeich­net ei­ne mo­der­ne Shop-Floor-Lö­sung aus? Auf wel­che Punk­te müs­sen Un­ter­neh­men ach­ten, wenn sie den Sprung ins IIoT wa­gen wol­len? In­du­s­trie-4.0-Spe­zia­list FOR­CAM stellt in ei­ner Ar­ti­kel­se­rie die wich­tigs­ten Mo­du­le vor.
Weiterlesen