DPA Microphones Makes Some Noise at the 2014 NAMM Show
Company to feature its latest "d:" branded mic offerings and host performances by SHEL
Alleroed, Denmark

, (PresseBox) -
Folk pop band SHEL will once again be the headlining act for DPA Microphones at the 2014 NAMM Show (Booth 7119). Longtime fans of the company, SHEL is made up of four sisters (Sarah, Hannah, Eva and Liza Holbrook) who will perform using DPA's d:vote™ 4099 Instrument Mics and d:facto™ II Vocal Microphones equipped with a variety of adapters. Additionally, the company is announcing a full product "d:" branding, which includes the absorption of the current 4060, 4071, 4080 and 4090 Miniature Mics into the d:screet™ Miniature Microphones group and the addition of the ever-popular 4066 and 4088 Miniature Headsets to the d:fine™ Headset Microphone category.

In addition to watching full performances from the group, attendees will have the unique opportunity to hear the true quality of the mics employed in SHEL's setup at personal listening stations located throughout the DPA Microphones booth. Hailing from the artistic community of Fort Collins, Colorado, these classically trained musicians blend classical music with pop elements for an eccentric sound that is youthful and upbeat, yet highly emotive.

Announced at DPA Microphones' recent Partner Conference, the unveiling of the new d:screet Miniature Microphone name is another step in the company's plans for full "d:" branding. With the company's 4080 Miniature Cardioid Lavalier, 4060 Miniature Omni-series and 4090/91 Recording/Measuring Microphones and the new 4098 Podium Microphones now part of the d:screet line, customers have the ultimate set of solutions.

"A few years ago, we decided to change the names of our new products to make them more recognizable and easy to remember," says Christian Poulsen, CEO of DPA Microphones. "In the past, our products were branded with numbers, which were difficult to understand and remember unless you were a DPA aficionado. We wanted names that were more meaningful and more interesting, so we found words starting with the letter 'd' that fit the significance to the 'd:' (colon) branding. Starting product lines with a 'd' makes it easier for fans to remember what they are using as it connects the mics to the DPA name. We also felt that leaving out the second letter gave it a graphic element that worked well with our new DPA design."

Created for use with wireless systems in theater, television and close-miked instrument applications, the d:screet 4060 omni capsule is highly unobtrusive, which lends itself to an exceedingly accurate omnidirectional pattern, while the d:screet 4080 cardioid is acoustically pre-equalized and well suited for broadcast, conference and other live performances in the studio or in the field. The DPA d:screet 4090 is a high-quality omnidirectional condenser microphone with a uniquely natural and open sound, that is suitable for instrument miking applications in the studio, on stage or for system alignment.

Also on display is the company's d:dicate Recording Microphone line, which combines the company's best new and existing capsules and preamplifiers to deliver superior sound across many applications where the microphones have not been widely used before, such as live sound applications for touring and installation purposes. Included in the range are the new modular MMC4018 Supercardioid Capsule and the well-known MMC4007 High-SPL Omnidirectional Capsule, now re-launched for modular use.

Rounding out the d:dicate line are microphones from the familiar and well-loved DPA former Reference Standard series, including the modular 4000 and 2000 Series. All of the d:dicate capsules can be combined with the company's state-of-the-art preamps, including the A, which is a Class A transformerless design; the B, a low cut and high boost filter version; the compact C option for visual unobtrusive miking; and the new modular active MMP-E cable for hanging or table applications. An MMP-F modular boom pole is available for podium or floor stand use of the d:dicate capsules.

In addition to the 4066 and 4088 Headset Microphones, which are available as both classic and d:fine options, users will have a chance to check out the d:facto II Vocal Microphone and d:vote 4099 Instrument Microphones.
DPA Microphones A/S
DPA Microphones is the leading Danish Professional Audio manufacturer of high quality condenser microphone solutions for professional applications. DPA's ultimate goal is to provide you - whether you're in live sound, recording, theater or broadcast - with the absolute finest possible microphone solutions for your tasks. DPA takes no shortcuts in the design processes nor makes any compromises in manufacturing, which is all done at the DPA factory in Denmark. As a result, DPA's products are globally praised for their exceptional clarity and transparency, unparalleled specifications, supreme reliability, and above all, pure, uncolored and undistorted sound.

For more information, please visit www.dpamicrophones.com

Press releases you might also be interested in
Weitere Informationen zum Thema "Hardware":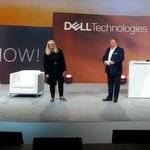 Digitalisierung erfordert nahtlose Kommunikation
Dells Ta­ges­ver­an­stal­tung "The Next Now!" In Mün­chen woll­te Hil­fe­stel­lung leis­ten auf dem Weg zur Di­gi­ta­li­sie­rung der Un­ter­neh­men in Deut­sch­land. Wel­che St­ra­te­gi­en und Rah­men­be­din­gun­gen er­wei­sen sich als güns­tig, was soll ver­mie­den wer­den?
Weiterlesen