Digium and snom Simplify Phone Deployments for Small and Medium Businesses
Digium's Switchvox IP PBX Now Automatically Detects and Provisions snom Phones
Huntsville, Ala.

, (PresseBox) -
With the release of Switchvox SMB 4.0, Digium®, Inc., the Asterisk® Company, now makes it easier than ever to deploy snom VoIP phones. The partnership between Digium and snom technology AG, a leading developer of VoIP phones, allows Switchvox®, the web-aware IP PBX designed for small-to-mid-sized businesses, to automatically detect and provision snom 3 series phones, as well as the company's new 820 phone. This capability reduces setup time and allows businesses to easily and inexpensively deploy phones to the desktop.

snom's devices are developed specifically to meet the needs of the SMB by offering desktop and wireless devices that combine the latest technology with innovative designs. The company's desktop 3 series handsets have long had a place in offices around the world while its new m3 wireless mobile device takes advantage of the latest technology to offer clear voice and strong data transmissions.

"Digium and snom have a strong history of partnership and innovation that makes it easy for the business community to use Asterisk and snom together," said Digium's Bill Miller, vice president of product management. "Now this extends through to the latest version of Switchvox SMB, and is especially important in the European market, where snom holds a particularly strong position."

Switchvox SMB is designed for businesses that want a full-featured voice over IP phone system for hundreds of employees per server at a fraction of the cost of traditional PBXs. With Switchvox SMB, Digium offers the power and functionality of Asterisk-the most popular open source telephony software in the world-combined with advanced yet easy-to-use administrative features and close integration with several communications methods and the web.

"snom and Digium have a long and strong relationship in ensuring that our products work well together," said Dr. Michael Knieling, sales and marketing director for snom. "Our goal is not only to make the products interoperate, but to take full advantage of all that Switchvox has to offer."

About snom

snom technology AG develops and manufactures Voice-over-IP (VoIP) telephones and related equipment based on the IETF open standard, SIP (Session Initiation Protocol). Recognized for its high quality, customizable and cost-effective business solutions, snom is also differentiated by the company's history in the VoIP industry, and its dedication to high security standards. All of snom's software exists in the firmware on the phones - making it easier for users to download updates and new features. snom customers benefit from the interoperability and flexibility that the snom telephones offer, including plug and play integration and universal compatibility with any SIP-based telephony platform. Founded in 1996 and headquartered in Berlin, Germany, snom technology AG has offices in North Andover, MA, Wuxi, China, Milan, Italy and Paris, France. The company distributes its third generation SIP phones through its network of authorized reseller partners in Europe, South America, Asia-Pac, Africa, and Australia. For more information on snom, please visit our website at www.snom.com.
Digium, Inc.
Digium®, Inc., the Asterisk® Company, created, owns and is the innovative force behind Asterisk, the most widely used open source telephony software. Since its founding in 1999, Digium has become the open source alternative to proprietary communication providers, with offerings that cost as much as 80 percent less. Digium offers Asterisk software free to the open source community and offers Asterisk Business Edition and Switchvox IP PBX Software to power a broad family of products for small, medium and large businesses. The company's product line includes a wide range of hardware to enable resellers and customers to implement turnkey solutions or to design their own voice over IP (VoIP) systems. More information is available at www.digium.com.


Press releases you might also be interested in
Weitere Informationen zum Thema "Kommunikation":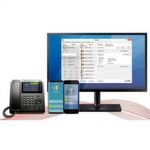 Ziel ist die optimal vernetzte Kommunikation
Die we­sent­li­che IT-An­for­de­rung für den Ar­beits­platz der Zu­kunft ist die Ver­net­zung und Syn­chro­ni­sie­rung al­ler Kom­mu­ni­ka­ti­ons­ka­nä­le im Un­ter­eh­men. Das ist das Er­geb­nis ei­ner Stu­die, die mit Un­ter­stüt­zung des UC-Spe­zia­lis­ten Swyx So­lu­ti­ons durch­ge­führt wur­de.
Weiterlesen