Digium® Launches AsteriskExchange, the Official Online Asterisk Community Marketplace
New website, www.asteriskexchange.com connects Asterisk users, developers, integrators, service providers and manufacturers with customers worldwide
Huntsville

, (PresseBox) -
Digium® Inc. the Asterisk® Company, today launched AsteriskExchange, the official online marketplace featuring products built or integrated with Asterisk, the world's most popular open source communications engine. Asterisk is a free software toolkit that integrators and developers can use to transform computers into advanced communications systems, radically improving business productivity while reducing the cost of business communications. With thousands of new downloads per day, millions of deployments worldwide, and a community of 65,000 members, the acceptance and growth of Asterisk has spawned an ecosystem of developers, integrators, resellers, service providers and manufacturers in more than 170 countries around the world. AsteriskExchange capitalizes on the popularity of Asterisk, helping ecosystem participants to market their products to the growing Asterisk community.

From a user's perspective, AsteriskExchange is a dynamic marketplace where one can find everything needed for success with open source communications. Users can quickly find both free and commercial Asteriskrelated products with user reviews and ratings, popularity rankings and an advanced search tool to simplify the process of finding the right product. Current categories include IP phones and gateways, speech and text engines, voice prompts, call center solutions and vertical application packages. Additional, new categories will be added as the marketplace expands.

AsteriskExchange represents a significant opportunity for ecosystem participantsit offers a central site focused exclusively on Asteriskrelated products and taps into the massive popularity of the Asterisk project. Participants will be able to promote their Asteriskrelated solutions to a targeted community and take advantage of product certifications, premiummarketing activities such as site advertising and promotions, as well as webinar and email newsletter sponsorships.

"Digium is keenly aware of the importance of collaboration and partnership. Asterisk has become a worldwide phenomenon because of the ecosystem of developers, integrators, service providers and manufacturers that extend its capabilities and value," said Danny Windham, Digium's chief executive officer. "AsteriskExchange gives ecosystem partners an opportunity to connect directly with the Asterisk community, and gives the community a central place to discover, review and source bestofbreed solutions and components. We look forward to seeing the ways that customers use Asterisk to build innovative solutions."

Polycom and Digium have a longstanding and valuable relationship serving small- to midsized businesses. "Our integrated solutions include Digium's Asteriskbased and Switchvox Unified Communications systems with Polycom's full suite of SIPbased VVX(TM) 1500 business media phones as well as its SoundPoint® IP desktop and SoundStation® IP conference phones," said Jim Kruger, Polycom vice president of Solution Product Marketing. "By extending our products through AsteriskExchange, an entirely new marketplace has opened up, providing us with the opportunity to reach even more members of the Asterisk community. We are excited about the future prospects and our partnership, which continues to grow."

"At LumenVox, we are very excited that Digium has launched the AsteriskExchange marketplace, and by having exposure to the larger Asterisk community, we anticipate that the use of speech recognition technology will grow substantially within this ecosystem," said Gerd Graumann, director of business development at LumenVox, a Digium partner. "The AsteriskExchange provides an opportunity for companies to market their products to a larger audience, allowing companies like LumenVox to offer cutting edge technology at a much lower price than was previously possible."

To learn more about listing your company's products on AsteriskExchange, please visit www.AsteriskExchange.com/getlisted. Free listings are available for those who offer downloadable products at no cost. Pricing and promotional packages are available for companies who wish to showcase commercial solutions on AsteriskExchange.
Digium, Inc.
Digium®, Inc., the Asterisk® Company, created, owns and is the innovative force behind Asterisk; the most widely used open source telephony software. Since its founding in 1999, Digium has become the open source alternative to proprietary communication providers, with offerings that cost as much as 80 percent less. Digium offers Asterisk software free to the open source community and offers Asterisk Business Edition and Switchvox IP PBX software to power a broad family of products for small, medium and large businesses. The company's product line includes a wide range of hardware and software to enable resellers and customers to implement turnkey VoIP systems or to design their own custom telephony solutions. More information is available at http://www.digium.com.

Press releases you might also be interested in
Weitere Informationen zum Thema "Kommunikation":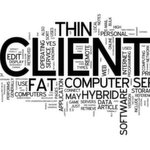 T-Systems liefert Dynamic Workplace Release 6
Mit dem Dy­na­mic Work­place von T-Sys­tems kön­nen Un­ter­neh­men ih­re Fat Cli­ents nun in Etap­pen ab­spe­cken – Funk­tio­nen klas­si­scher PC-Ar­beits­plät­ze al­so nach und nach ein­zeln in die Cloud ver­la­gern.
Weiterlesen