Cortus presents their range of embedded processors at DesignCon2011 with Avant Technology
Cortus will present their range of processors for embedded systems at this year's DesignCon with their partner Avant Technology
Friedberg

, (PresseBox) -
Cortus will present their range of processors for embedded systems at this year's DesignCon2011 with their partner Avant Technology. The Cortus family of processors for embedded systems offer a complete range of solutions for embedded systems designers. Cortus have processors for designers who need a highly cost effective processor. They also have solutions for designers who need high performance multi-core systems yet have only tiny power and silicon budgets.

Avant Technology represents the entire range of Cortus' products. For embedded systems designers, requiring a simple controller, complete solutions requiring very low power and a tiny silicon footprint are available. A full IDE with complete tool support is available as well as standard peripherals such as bridges, I/O, USB2.0, Ethernet, sophisticated interrupt controllers... Small and compact real time operating systems such as OpenRTOS are also supported.

Avant Technology can also supply Cortus' high performance multi-core solutions which include full tool support, compilers, debuggers, IDE and simulators; advanced functions such as memory management units (MMUs) and configurable caches (both instruction and coherent snoopy data caches). Support is also offered for operating systems, such as Linux.

Cortus' products are currently in production in a range of products, from mobile telephones to SIM cards and other challenging environments such as video cameras, smart cards for pay TV, ultra low power RF. Our customers appreciate not only our very low power and tiny silicon footprint but also the flexibility of our cores. Certain customers have customised the processors to their specific application space, for example with cryptographic coprocessors that significantly increase the performance and efficiency of their solution.

About Avant Technology:

Avant Technology Inc., a professional IP & EDA distributor, was established in 1990 in Hsinchu, Taiwan. In 2001, Shanghai office in China was established. We are distributing the leading edge products from Artwork, Arasan, ChipVision, DeFacto, HDL Works, IntelliSense, IOMeth, Logic Design Solutions, Novelics, nSys, Satin, TexEDA, and TransEDA. Avant Technology Inc. is headquartered at 5F-1, No. 83, Sec. 2, Gongdaowu Rd., Hsinchu, Taiwan 30070.

Their US offices are: 185 Estancia Drive # 108, San Jose, CA 95134
Cortus
Cortus S.A. is the price/performance leader for 32 bit processor IP for embedded systems. Cortus cores are used in applications where one or more of small silicon footprint, low power consumption, good code density/small code memory size and high performance are important.

http://www.cortus.com.




Press releases you might also be interested in
Weitere Informationen zum Thema "Hardware":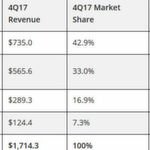 Umsatz konvergenter Systeme legt weltweit zu
Nach An­ga­ben der In­ter­na­tio­nal Da­ta Cor­po­ra­ti­on (IDC) ver­mel­de­te der "World­wi­de Quar­t­er­ly Con­ver­ged Sys­tems Tra­cker" für das vier­te Quar­tal 2017 ei­nen welt­wei­ten An­s­tieg der Um­sät­ze im Be­reich des kon­ver­gen­ten System­mark­tes um 9,1 Pro­zent. Hy­per­kon­ver­gen­te Sys­te­me out­per­for­men, an­de­re Teil­seg­men­te er­leb­ten Rück­gän­ge.
Weiterlesen