German Design Council Awards Continental Haptic Interaction Surfaces Concept with 'Best of Best'
Babenhausen

, (PresseBox) -

The second consecutive award for innovative Continental developments in the Automotive Brand Contest



Active haptic feedback enhances the human-machine interface, reduces driver distraction and improves safety



Thanks to intuitive control methods, the driver feels the screen and can control the input system much more easily


The Haptic Interaction Surfaces project from Continental has received the 'Best of Best' award at the 2016 Automotive Brand Contest. With this award, the German Design Council has recognized the developments by the international technology company for improving the holistic human-machine interface. The new concept is comprised of a 12.3" full HD TFT monitor and a touchpad that presents the display content through a haptic experience. In response to the driver´s touch, the display provides him with active haptic feedback via an impulse of movement which he can feel in the finger. This means that the driver can operate the central input system (touchpad) almost without looking, thereby significantly reducing driver distraction and improving safety for all road users. The award will be presented at the Paris Motor Show on September 29, 2016.

"Continental is keeping to the promise implied in its brand slogan: The Future in Motion. The interface between human and machine is gaining ever more importance, which is why products that act and integrate intelligently are particularly in demand in this respect. With Haptic Interaction Surfaces, drivers can take the habits that they have gained from using smart devices in everyday life and apply them in their vehicles. Media-compatible use of the display and touchpad with integrated haptic feedback plays an elemental role in this and thereby improves driving safety during operation of central input systems," comments jury member Prof. Andrea Lipp, explaining the reasons for the award.

"With our Haptic Interaction Surfaces concept, the graphical display elements are positioned absolutely in relation to the touchpad such that the corresponding display can be controlled with great precision. Thanks to the haptic feedback, drivers can actually feel their system as well," explains Dr. Heinz Abel, head of the Center of Competence at Continental's Instrumentation & Driver HMI business unit. "This tactile experience is enhanced by an aluminum-look trim strip that also provides active haptic feedback. We have deliberately taken a minimalist approach to the design and finished off the favorites bar on the trim strip with a disappearing effect."

Feel Your Screen: Intuitive Control of Individual Screen Elements

The system is controlled intuitively by means of learned behavior from the operation of touch-sensitive surfaces. The driver is assisted in doing so by active haptic feedback.

For example, finely tuned force recognition (or "force sensing") ensures that accidental touches can be distinguished from intentional operational commands. Search haptics, which has an effect on safety, is an additional element. When the driver runs a finger over the touchpad or the favorites bar, the haptic feedback provides information about the limitations of operating elements or screen elements. This kind of "tactile assistance" helps the user to scroll through long lists or the navigation menu, for example. Furthermore, the system provides the driver with feedback regarding a successfully accepted entry by means of confirmation haptics. The combination of the mirroring of the screen on the touchpad with the active haptic feedback means that the driver is always given the feeling of being able to touch and control every single element on the screen.

The user-friendly design is aided by the glass surface of the screen, which minimizes reflection thanks to optical bonding and an anti-glare coating, as well as by the functional surface design of the control panel, which features an aluminum look and a vanishing effect. In addition, the understated design can be incorporated seamlessly into all vehicle environments.

The technology is completely scalable, which means that it can be adapted to various vehicle classes in different device sizes. Meanwhile, the characteristics and intensity of the haptic feedback can be freely configured, so that they could be adapted to the brand-specific haptic standards of the OEMs. They could also be adapted to a particular driving or operating situation.

2016 Automotive Brand Contest

The Automotive Brand Contest is the only neutral, international design competition for automotive brands and, within a very short space of time, it has evolved into one of the world's most important industry competitions. With the competition, the German Design Council recognizes outstanding product and communication design, steering attention toward the fundamental importance of brands and brand design in the automotive industry. The focus here is on the holistic and consistent depiction of the brand across all media and products. The Automotive Brand Contest provides companies in the automotive industry with a platform to compare their achievements and position themselves on an international level.

Haptic Interaction Surfaces at a Glance

• 3" full HD TFT display with glass surface and optical bonding
• Aluminum-look control panel with disappearing effect and active haptic feedback
• Touchpad (112 mm x 70 mm) with active haptic feedback which makes the content of the display tangible
• Force sensing for differentiating between deliberate and accidental operations
• Search haptics assists in finding screen elements
• Confirmation haptics to provide feedback regarding successfully accepted input
Continental Automotive GmbH
Continental develops intelligent technologies for transporting people and their goods. As a reliable partner, the international automotive supplier, tire manufacturer, and industrial partner provides sustainable, safe, comfortable, individual, and affordable solutions. In 2015, the corporation generated sales of €39.2 billion with its five divisions, Chassis & Safety, Interior, Powertrain, Tires, and ContiTech. Continental currently employs more than 212,000 people in 55 countries.

Information management in and beyond the vehicle is at the very heart of the Interior division. The product portfolio for different types of vehicles includes: instrument clusters, multifunctional and head-up displays, control units, access control and tire-information systems, radios, infotainment systems, input devices, control panels, climate control units, software, cockpits as well as services and solutions for telematics and Intelligent Transportation Systems. The Interior division employs more than 40,000 people worldwide and generated sales of approximately €8.2 billion in 2015.


Press releases you might also be interested in
Weitere Informationen zum Thema "Fahrzeugbau / Automotive":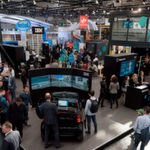 22 IIoT-Plattformen, die Sie kennen sollten
Platt­formö­ko­no­mie ist ein zen­tra­les The­ma der Han­no­ver Mes­se 2018 – ge­nau­er der Di­gi­tal Facto­ry. Von AXOOM und Ama­zon Web Ser­vices über Mi­cro­soft und Goog­le bis Sie­mens: Fast al­le Big Play­er in Sa­chen IIoT-Platt­for­men sind am Start. 20 in­ter­es­san­te Lö­sun­gen ha­ben wir für Sie zu­sam­men­ge­s­tellt.
Weiterlesen