3 Invests in Cisco IP Network to Fuel Mobile Broadband Growth
Hallbergmoos

, (PresseBox) -
Cisco(R) (NASDAQ: CSCO) announced today that Scandinavian 3G mobile services provider, 3 Scandinavia, is building a new mobile core network based on Cisco Internet Protocol Next-Generation Network (IP NGN) technology. The network, which is being implemented by Atea, a Cisco Gold Certified Partner, will support the strong growth in mobile broadband traffic over the 3 network that has resulted from the successful launch of 3´s Turbo 3G service. In the second quarter of 2007, 3 had 44 percent market share in the Swedish mobile broadband market (Source: IT-research AB).

3´s Turbo 3G is a High-Speed Downstream Packet Access (HSDPA) service which offers speeds up to 7.2 megabits per second, making it possible for mobile users to enjoy the same Internet access bandwidths as fixed-line broadband users. The Cisco mobile core IP network connects users of the Turbo 3G service to the Internet and 3´s broadband data services. With significant increases in the number of subscribers using 3´s Turbo 3G services, the network upgrade will provide the optimum network performance and capacity to maintain a continuously high quality of service for current mobile broadband users and meet the increasing demand from new customers.

"The number of users of mobile broadband is continuing to increase rapidly," said Peder Ramel, group chief executive officer of 3. "We are keeping a step ahead by expanding the mobile core IP capacity to satisfy this demand and provide room for future growth and innovation. By investing in an IP Next-Generation Network from Cisco, we can continue to offer world-class Turbo 3G services with the capacity to support multimedia applications such as music downloads and video streaming."

"We are seeing the emergence of mobile operators like 3 take the lead in developing the next generation of mobile broadband services," said Sverker Hannervall, general manager of Cisco Sweden. "The popularity of services from 3 shows that mobile broadband has progressed from being a supplement to fixed broadband services to being a potential replacement. This poses completely new network design and service control challenges to mobile network operators. With the demands for HSDPA broadband mobile traffic booming, the Cisco solution is designed to help operators keep control of capital and operational expenditure in the mobile network."

"This important project is the result of our successful long-term collaboration with 3," said Lars Pettersson, managing director of Atea Sverige AB. "We have proven our ability to deliver the expertise on Cisco technology that is laying the foundation for Turbo 3G."

The solution is based on Cisco 7600 Series Routers in a fully redundant architecture, with functions duplicated to help ensure high availability. Cisco 7600 Series Routers support throughputs of up to 10 gigabits per second with integrated high-density Carrier Ethernet switching and IP/Multiprotocol Label Switching (MPLS) routing, making it possible for operators to deliver both consumer and business services over the same network.

About 3
3 is the world´s leading provider of 3G and Mobile Broadband services with almost 16 million customers in nine countries. 3 Scandinavia is a joint venture between Hutchison-Whampoa Limited in Hong Kong (60 %) and Investor AB in Stockholm, Sweden (40 %). 3 Scandinavia operates networks in Sweden and Denmark and holds a license in Norway. For more information, see www.tre.se or www.three.com.

About Atea
Atea is Sweden´s leading independent supplier of IT infrastructure. The company consists of more than 1000 employees at 25 locations from Malmoe in the south to Lulea in the north, and a turnover of SEK 6300 million. Atea is part of the Ementor Group, which is noted on the Oslo Stock Exchange and has a total of 3300 employees at 50 locations in Sweden, Denmark, Finland, Norway and Latvia. Ementor is the largest supplier of IT infrastructure in Scandinavia and the third largest in Europe, with a turnover of just over SEK 15000 million in 2006.
Cisco Systems GmbH
Cisco Systems, Inc. (NASDAQ: CSCO) mit Hauptsitz in San Jose (CA) ist mit 34,9 Milliarden US-Dollar Umsatz (28. Juli 2007) weltweit führender Anbieter von Networking-Lösungen für das Internet. Die deutsche Niederlassung Cisco Systems GmbH hat ihren Sitz in Hallbergmoos bei München und Büros in Eschborn bei Frankfurt am Main, Hamburg, Düsseldorf, Stuttgart und Berlin. Cisco-Produkte werden in Europa von der Cisco Systems International BV geliefert, eine Tochtergesellschaft im vollständigen Besitz der Cisco Systems, Inc.

Cisco, Cisco Systems und das Cisco Systems-Logo sind eingetragene Marken oder Kennzeichen von Cisco Systems, Inc. und/oder deren verbundenen Unternehmen in den USA und in anderen Ländern. Alle anderen in diesem Dokument enthaltenen Marken sind Eigentum ihrer jeweiligen Inhaber. Die Verwendung des Worts "Partner" bedeutet nicht, dass eine Partnerschaft oder Gesellschaft zwischen Cisco und dem jeweils anderen Unternehmen besteht. Dieses Dokument ist eine Veröffentlichung von Cisco.

Sitz der Gesellschaft: Am Söldnermoos 17, 85399 Hallbergmoos; Amtsgericht München HRB 102605; Geschäftsführer: Michael Ganser, Andreas Dohmen, Norbert Spinner; WEEE-Reg.-Nr. DE 65286400
Press releases you might also be interested in
Weitere Informationen zum Thema "Netzwerke":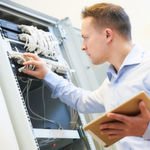 Zentralisierung von DDI-Diensten
Ef­fi­ci­en­tIP un­ter­stützt IT-Di­enst­leis­ter der ge­setz­li­chen Kran­ken­ver­si­che­run­gen bei um­fang­rei­chem Pro­jekt zur Ve­r­ein­heit­li­chung ele­men­ta­rer Da­ten­ser­vices.
Weiterlesen