No-compromises image quality with the new ZEISS camera lens
The ZEISS Otus 1.4/55 stands out with technical features ideal for all-around professional photography with 35mm DSLR cameras
Oberkochen

, (PresseBox) -
With an imaging performance that has hitherto only been seen with medium format systems, the new ZEISS Otus 1.4/55 offers ambitious photographers who do not accept any compromises in image quality the possibility for a more compact gear. DSLR cameras with high resolution 35mm sensors put enormous demands on lenses. The Otus1.4/55 can deal with these demands thanks to its outstanding sharpness, high image contrast and no visible chromatic aberrations. It creates the highest-possible image quality, even with an open aperture. The new ZEISS lens is especially suited for advertising, fashion and studio photography, and professional photographers working in these fields will not need to make any compromises in terms of performance and quality. The Otus 1.4/55 is the first lens in a family of uncompromising professional lenses from ZEISS. Additional focal lengths will follow. Otus is the Latin name for a type of owl known for its excellent vision in darkness - just like this new high-speed lens from ZEISS.

"Our goal was to bring the best standard lens for SLR cameras onto the market. The Otus 1.4/55 delivers outstanding sharpness and contrast rendition all the way into the corners of the image. The only way we could achieve this was through the complex Distagon optical design, which until now has only been found on wide-angle lenses," explains Christophe Casenave, product manager for ZEISS Camera Lenses. "Thanks to the low level of longitudinal chromatic aberration, there are no visible aberrations. So an illuminated harbor scene by night with many light sources in front of and behind the actual focal plane appears close to reality, without displaying complementary, color contrast edges. The excellent performance delivered by Otus is constant for all shooting distances. Its high performance with an open aperture also makes this lens a good choice for close-ups or portraits. For architectural and landscape photography, the Otus 1.4/55 takes full advantage of modern high-resolution camera sensors, resulting in impressive resolution in the images, even for the smallest detail."

Other unique features of the Otus 1.4/55 are its high image contrast all the way to the edges (even for low f-numbers) and the consistent high-resolution performance across the entire image field. The lens has a completely new optical and mechanical design, which was developed taking into account the special and increasing requirements of high-resolution DSLR cameras. The Otus 1.4/55 is equipped with a floating elements design with 12 lens elements in 10 groups, including a double-sided aspheric lens and six lenses made of special glass with anomalous partial dispersion. These sophisticated features create image results without color fringing or distortion. Cameras with a lower number of pixels will also benefit from the lens's unique features.

The performance delivered by the Otus 1.4/55 is especially obvious with night shots. When taking pictures with many image-dominant, open light sources, it is common for correction defects to show up. Because the Otus 1.4/55 is an apochromatic lens, longitudinal chromatic aberrations are corrected by its lens elements of special glass with anomalous partial dispersion. The color defects are therefore significantly lower than the defined limits. Bright/dark transitions in the image, and especially highlights, are rendered with no colorful artifacts. Although it is not a traditional focal length for architectural and landscape photography, here, too, the lens can deliver very good results. The edges of the image can be used for all apertures, giving full rein to the photographer's creativity. For portraiture, the Otus 1.4/55 render the finest details precisely, and thanks to the maximum aperture of f/1.4, the photographer can consciously play with the depth of field and create a smooth bokeh. The Otus 1.4/55 stands out not only for its highly detailed pictures with no bothersome artifacts, but also for its mechanical quality. The smooth focus operation with the large angle of rotation allows for the finest variations when focusing - qualities that are only possible in a metal barrel. Its design as a manual focus lens allowed the engineers to work with much smaller tolerances during the construction. The lens's robust metal barrel with the easy to grip focus ring makes it perfect for the demanding everyday situations of professional photographers, and guarantees a long product life. The yellow labels on the scales, which are borrowed from the professional ZEISS cinema lenses, contribute to better visibility. For its innovative product design, the Otus 1.4/55 already won the iF product design award 2013.

The Otus 1.4/55 will be available with F bayonet (ZF.2) and EF bayonet (ZE) starting at the end of October in all global markets. The recommended retail price will be €2,940 or US$3,999 (excl. VAT)*.

More information can be found on www.zeiss.com/photo.
Carl Zeiss AG
The Carl Zeiss Group is an international leader in the fields of optics and optoelectronics. In fiscal year 2011/12 the company's approximately 24,000 employees generated revenue of nearly 4.2 billion euros. In the markets for Industrial Solutions, Research Solutions, Medical Technology and Consumer Optics, Carl Zeiss has contributed to technological progress for more than 160 years and enhances the quality of life of many people around the globe.

The Carl Zeiss Group develops and produces planetariums, eyeglass lenses, camera and cine lenses and binoculars as well as solutions for biomedical research, medical technology and the semiconductor, automotive and mechanical engineering industries. Carl Zeiss is present in over 40 countries around the globe with about 40 production facilities, over 50 sales and service locations and service locations and approximately 20 research and development sites. Carl Zeiss AG is fully owned by the Carl Zeiss Stiftung (Carl Zeiss Foundation). Founded in 1846 in Jena, the company is headquartered in Oberkochen, Germany.
Press releases you might also be interested in
Weitere Informationen zum Thema "Photonics":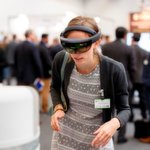 Die physische Welt verschmilzt mit der digitalen – auf einer einheitlichen Datenbasis
Das PTC Forum Eu­ro­pe war Schau­platz für die zu­neh­men­de Ver­sch­mel­zung von phy­si­scher und di­gi­ta­ler Welt. Das Un­ter­neh­men zeig­te, warum PLM IoT ist und wel­che Be­deu­tung der Aug­men­ted Rea­li­ty in Zu­kunft zu­kommt.
Weiterlesen