Bluetooth SIG and the Alliance for Wireless Power (A4WP) Sign MoU Establishing Formal Liaison Relationship
New York, NY

, (PresseBox) -
.
- Assures A4WP users of speedy and robust Bluetooth Smart-based power management
- Heralds new consumer electronics device category: the smart wireless power charging station

The Bluetooth SIG and http://www.a4wp.org/index.htmlAlliance for Wireless Power (A4WP) today announce the signing of a memorandum of understanding (MoU) that establishes a formal liaison relationship and heralds the creation of a new consumer electronics device category: the smart wireless charging station.

As a first step, the Bluetooth SIG has issued a Universally Unique Identifier (UUID) to the A4WP for adoption in its baseline system specification (BSS). The A4WP BSS utilises the Bluetooth Smart radio standard to carry the session management and power control between an A4WP charging station and an A4WP-certified device, e.g. smartphone.

Benefits of the close integration of Bluetooth Smart with the A4WP standard include:

- Consumers will benefit from devices initiating a charge more quickly when coming into contact with charging surfaces
- Consumers will also see improved power control features such as giving one device prioritised charging when multiple devices are charging at the same time
- OEMs and developers will be able to create a new class of applications to leverage these smart wireless charging stations (e.g. mobile payments, location based services)

"Bluetooth Smart is a foundation technology for the Alliance for Wireless Power." said Dr. Kamil A. Grajski, president of the A4WP. "By combining Bluetooth Smart with magnetic resonant wireless power transfer technology, the A4WP delivers a next-generation user experience that features one charging station to many simultaneous devices, freedom of placement on tabletops, desktops and automotive environments, and charging solutions that scale seamlessly from wireless headsets to smartphones, to tablets and laptops."

"Adoption of Bluetooth Smart into A4WP wireless power technology allows us to completely reimagine what wireless charging is and does," said Suke Jawanda, chief marketing officer, Bluetooth SIG. "It opens the door to an entirely new class of wireless power applications, services and communication solutions that can activate when devices come into contact with wireless charging surfaces - maybe ordering and paying for a meal by simply putting your phone on a table. The opportunities are limitless, but made more realistic through this partnership."

About The Alliance for Wireless Power

The Alliance for Wireless Power (A4WP) is an international industry association that has grown from twelve member companies to almost seventy in the past year, and whose Board consists of global leaders Broadcom, Gill Industries, IDT, Intel, Qualcomm, Samsung, and SEMCO. A4WPs purpose is to create a wireless power transfer (WPT) ecosystem that delivers spatial freedom features in the user experience and industrial design of wireless battery charging of portable consumer electronics devices, including cellphones, smartphones, tablets, netbooks, laptops and more. For a video demonstration of the A4WP-enabled wireless charging user experience, visit http://tinyurl.com/b9ppdn9.

For more information, visit www.a4wp.org.
Bluetooth® Wireless Technology
Bluetooth wireless technology is the global wireless standard enabling simple, secure connectivity for an expanding range of devices and serves as the backbone of the connected world. Bluetooth Smart Ready and Bluetooth Smart branded devices, through an updatable platform and low power consumption, create new application opportunities for the mobile phone, consumer electronics, PC, automotive, health & fitness and smart home industries. With over two billion devices shipping annually, Bluetooth is the wireless technology of choice for developers, product manufacturers, and consumers worldwide. Backed by industry leading companies, the Bluetooth SIG empowers over 19,000 member companies to collaborate, innovate and guide Bluetooth wireless technology. For more information please visit www.bluetooth.com.
Press releases you might also be interested in
Weitere Informationen zum Thema "Netzwerke":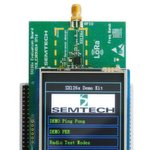 Semtech präsentiert neue LoRa-Bausteine
Mit den jetzt an­ge­kün­dig­ten Chip­sets SX1262, SX1261 und SX1268 will Sem­tech mehr Leis­tung für Sen­sor-ba­sier­te IoT-An­wen­dun­gen bie­ten. Der An­bie­ter ver­spricht 20 Pro­zent mehr Link-Bud­get bei ei­nem zu­g­leich hal­bier­ten Strom­ver­brauch beim Emp­fän­ger.
Weiterlesen