Web Filtering Company Bloxx adds Real-Time Web Page Categorisation for Spanish and German Web Pages
Dynamic Categorisation in Local Language Improves Safety, Security and Reduces Risk
Livingston

, (PresseBox) -
Bloxx, the innovator in Web and Email Filtering, today announced that it has added Spanish and German language support to its patent-applied-for real-time categorisation engine Tru-View Technology (TVT), to analyse and categorise Web pages in these languages at the point-of-request across 50 Web content categories. TVT already supports UK and US English, Dutch and Danish, and these new languages will be available to end customers and in the TVT Software Development Kit (SDK) for OEM customers.

"One of the biggest challenges in Web filtering is the ability to support a local market without the need to create and maintain a database of local language URLs which is time consuming and expensive and can delay market entry," said Eamonn Doyle, Chief Executive Officer at Bloxx. "Tru-View Technology can be quickly and easily trained in single-byte character languages allowing vendors to quickly build the capability to support local market entry at minimal cost."

"For end users of Bloxx Web filtering, the availability of a dynamic Web page categorisation in their local language means that they now have a content filter that is not based on a manually maintained URL list that may be out of date and cannot keep up to date with the growth of the Web. This unique capability improves safety and security for users, increases network security and reduces risk for the organisation."

Bloxx Tru-View Technology, developed at the company's Livingston, UK research labs, allows Web pages to be accurately classified and filtered in real-time. This patent-applied-for approach was integrated into the Bloxx Web Filter, the first commercially available Web filter that could cope with the rapid growth of the Internet and the dynamic nature of Web 2.0 content. The software has now been further developed for use in the recently launched Bloxx Email Filter. Bloxx Web and Email filtering appliances, powered by Tru-View Technology, help IT companies and organisations proactively manage users' access to Web content and emails which might otherwise lower productivity, expose the organisation to risk and liability or pose a network security threat.
Bloxx Ltd
Headquartered in the UK with sales offices in Holland, the USA and Australia, Bloxx offers appliance-based Web and Email filtering for medium and large organisations in both the business and public sectors. Bloxx has achieved unrivalled sales growth year-on-year to become a leading web-filtering provider with an estimated 2.5 million+ users worldwide. Leading UK investment groups Archangel Investments Ltd and Braveheart Investment Group Plc have invested in Bloxx. For more information, visit http://www.bloxx.com




Press releases you might also be interested in
Weitere Informationen zum Thema "Sicherheit":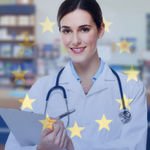 DSGVO verändert die Gesundheitsbranche
Die Da­ten­schutz-Grund­ver­ord­nung (DSG­VO / GD­PR) zählt Ge­sund­heits­da­ten und ge­ne­ti­sche Da­ten zu den be­son­de­ren Ka­te­go­ri­en per­so­nen­be­zo­ge­ner Da­ten, für die spe­zi­el­le Vor­schrif­ten be­ste­hen. Wer im wei­ten Feld des Ge­sund­heits­we­sens tä­tig ist, muss sich ins­be­son­de­re die The­men Ein­wil­li­gung, Da­ten­si­cher­heit, au­to­ma­ti­sier­te Ent­schei­dun­gen und Da­ten­schutz-Fol­gen­ab­schät­zung ganz ge­nau an­se­hen.
Weiterlesen