BLADE Network Technologies Partners with Consolidate-IT to Provide 10 Gigabit Ethernet Fabrics for Enterprise Data Centres throughout Europe
Consolidate-IT, the leading pan-European distributor, will provide BLADE's award-winning RackSwitch family and innovative virtualisation and switch management software to European resellers
Munich

, (PresseBox) -
Consolidate-IT, a leading Dutchbased pan-European valueadded distributor of 10 Gigabit Ethernet (10GbE) enterprise network, IP storage and HPC solutions, and BLADE Network Technologies, Inc. (BLADE), the trusted leader in data centre networking, announced today that Consolidate-IT will distribute BLADE's Gigabit and 10 Gigabit Ethernet RackSwitch product family and innovative VMready network virtualisation and BLADEHarmony Manager enterprise data centre networking solutions throughout Europe.

Consolidate-IT and BLADE are partnering to address the rapidly growing market for 10GbE networking in European enterprise data centres with competitive, differentiated open solutions that are lossless, low latency, low power and low cost. Leveraging BLADE's commitment to the channel as demonstrated by its existing sales and support operations in the UK, France, Germany and the Netherlands, this partnership is expected to accelerate BLADE's channel sales and marketing in Europe.

"BLADE Network Technologies provides unique capabilities for our reseller partners who are seeking valueadded and bestofbreed 10GbE data centre networking fabrics," said Jur Faber, CEO of Consolidate-IT. "BLADE has a clear and well developed channel strategy and with its innovative product portfolio, over 8M data centre ports installed and 350 of the Fortune 500 as customers, BLADE meets our criteria for providing our resellers with proven data centre networking solutions for the largest enterprises. We believe that our resellers will be impressed by BLADE's cloudready 10GbE topofrack switch solutions that deliver faster performance, lower latency, greater energy efficiency and 100percent interoperability with existing data centre infrastructures - all at a significantly lower cost than comparable Cisco products."

"Consolidate-IT's commitment to providing bestofbreed, green, converged 10GbE infrastructures for enterprise data centres matches perfectly with BLADE Network Technologies' product offerings and Unified FabricArchitecture roadmap," said Charles Ferland, vice president of EMEA for BLADE Network Technologies. "We're delighted to be partnering with a leading pan-European distributor who shares our low power, highperformance, open and achieving optimal TCO 10GbE data centre networking philosophy. European resellers will now have access to BLADE's marketleading portfolio of our topofrack RackSwitch family and unique VMready Virtual Machineaware network virtualisation and switch management solutions, through a wellrespected European distributor."

According to Gartner's recent "Market Share: Enterprise Ethernet Switches, Worldwide, 4Q09 and 2009" report, BLADE Network Technologies ranks as one of the top three providers of 10 Gigabit Ethernet switches for the midsize and large enterprise market, based on port shipments. Recently, BLADE announced its highest annual shipments, double digit yeartoyear growth and record market share gains for its FY2009. In Fiscal Q1 of 2010, BLADE grew shipments by more than 50 percent over Q1 of 2009and continued growth over the previous two recordbreaking quarters. The company has also introduced its Unified FabricArchitecture, the industry's fastest, smartest, most integrable and most proven fabric that eliminates cost and complexity of deploying physical and virtual data center infrastructure.

About BLADE RackSwitch

BLADE's networking solutions enable data centres to build ultrafast, converged networks. BLADE's RackSwitch family offers extremely low latency and lossless Gigabit and 10Gb Ethernet fabrics. BLADE RackSwitch is:
- Designed for today's increasingly virtual and dynamic data centre networking environments (not the wiring closet).
- Energy efficient: consumes 65% less power than the competition (less than two light bulbs); provides optimized airflow for data center server and storage systems; and every Watt saved by networking equipment saves 3 Watts in the data center.
- Open and standardsbased: provides interoperability in an open ecosystem of data centre solutions.
- Costeffective.
- Cloudready and scalable: scale massive networks with thousands of switches,
- Designed for agile virtualisation: hypervisoragnostic BLADE VMready automatically moves network policies as Virtual Machines move.
- Available today from Consolidate-IT.

About Consolidate IT - The Complete 10 GbE Infrastructure

Consolidate-IT is distributing a complete 10 GbE (virtual) infrastructure, with experience and expertise in Networking, IP storage, HPC solutions and virtualisation. They work with business experts throughout Europe in promoting the new effective infrastructure, based upon 10GbE technology. The IT Department needs more advanced technologies that basically can deliver more for a lower price. The business today is looking for an ROI, to be compatible in the current economy. Virtualisation started with a few servers, it is now expanding to all the servers and the desktops (VDI). Decreasing the number of servers however demands higher throughput and lower latency, while the costs are reduced. Via partners Consolidate-IT promotes the solution, low latency combined with faster SSD drives, increase the performance up to 10 X, while the cost can be reduced 90 %. Consolidate-IT supports the partners on how a 10 GbE virtual infrastructure can reduce the operational costs and increase the performance. Partners can help their customers with solutions that do deliver more speed for a lower price, like Consolidate-IT recently demonstrated at the CEBIT. Consolidate-IT has their HQ in the Netherlands and offices in London and Koln.

For more information please visit: www.consolidate-it.eu. Twitter: @ConsolidateIT
BLADE Network Technologies
BLADE Network Technologies (BLADE) is the industry's leading provider of network fabrics for highperformance data centers. Its blade switches, topofrack RackSwitch(TM) , VMready(TM) network virtualization software and Smart Server Control(TM) software are key elements of the company's Unified FabricArchitecture(TM) . BLADE's "Rackonomics" approach makes it simple for businesses to rapidly deploy and configure massive amounts of server and storage infrastructure, interconnect the various infrastructure elements, virtualize the infrastructure to maximize efficiency and utilization and easily manage the infrastructure to achieve the most optimal TCO. With over 8 million ports in production deployment, BLADE's proven fabric products connect millions of server and storage systems at over 9,500 enterprises in over 26 different industry verticals, including 350 of the Fortune 500. Visit: http://www.bladenetwork.net. Twitter: @BLADENetwork.
Press releases you might also be interested in
Weitere Informationen zum Thema "Netzwerke":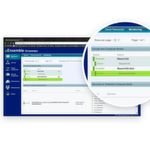 Fujitsu nutzt NFV-Technologie von Ensemble
Fu­jit­su wird künf­tig die Soft­wa­re­lö­sun­gen Or­che­st­ra­tor und Connec­tor des AD­VA-Ge­schäfts­be­reichs En­sem­b­le als Schlüs­sel­kom­po­nen­ten sei­ner Ma­na­ged-Net­work-Ser­vices ein­set­zen, um Ge­schäfts­kun­den in der EMEIA-Re­gi­on sei­ne Vir­tual-Ed­ge-Lö­sung zur Ver­fü­gung stel­len zu kön­nen.
Weiterlesen