BIOTRONIK to Supply ICD Technology to Cardio3 BioSciences for C-Cure® Stem Cell Clinical Trial
Agreement places BIOTRONIK at centre of an innovative research/scientific area
Berlin

, (PresseBox) -
BIOTRONIK, the pioneer in wireless remote monitoring technology for patients with cardiac devices, announced today an agreement regarding a partnership with a Belgian biotechnology company Cardio3 BioSciences in their C-Cure® stem cell clinical trial. This pivotal trial is designed to evaluate the safety and efficacy of Cardio3 BioSciences' second generation stem cell therapy in patients with heart failure. The first patient was treated in March 2009.

As part of a commitment to providing optimal therapy, patients who participate in the trial will receive an implantable cardioverter defibrillator (ICD) with Home Monitoring®. These devices ensure optimal standard of care for patients with severe cardiac conditions. BIOTRONIK Home Monitoring® offers the most advanced remote monitoring for cardiac patients employing cellular technology in the third generation. The BIOTRONIK Home Monitoring® system safely reduces the need for conventional in-office visits, while improving follow-up adherence, and enables earlier evaluation of clinically relevant cardiovascular events.

"This partnership with Cardio3 BioSciences, highlights the quality of the BIOTRONIK Home Monitoring® system and also provides BIOTRONIK with the opportunity to be directly involved in one of the most innovative areas of medicine. Longer term, what we learn through the trial will allow us to evaluate the potential to combine our innovative device technology with complementary approaches such as stem cell therapy so as to offer outstanding solutions to help to restore and secure the patient's quality of life in a lasting way," remarked Marlou Janssen, Global Vice President Marketing and Sales at BIOTRONIK GmbH & Co KG .

Dr Christian Homsy, CEO of Cardio3 BioSciences, commenting on today's announcement, said: "We are delighted to announce that we have partnered with BIOTRONIK to provide ICD technology for the C-Cure trial. In developing our stem cell technologies we are driven by a desire to provide the best possible quality of treatment to patients with heart disease and this is carried through in choosing partners and suppliers for our trial. We believe that by working with BIOTRONIK we are giving patients access to the highest quality monitoring technology. We look forward to further progressing the trial which for the first time will evaluate in patients whether 'cardiopoietic' cells, the active ingredient of C-Cure, can be used to re-generate heart muscle damaged by infarction. If C-Cure can achieve this goal, it will clearly be a major advance in the treatment of heart failure, a very common condition where current therapy does not address the underlying cause of the disease."

About C-Cure® stem cell therapy

C-Cure is a second generation cell therapy for the treatment of heart failure that involves taking a patient's own stem cells from bone marrow and through a proprietary culturing technology generating differentiated 'cardiopoeitic' cells which can regenerate damaged heart muscle. Unlike previous cell therapies for this indication, C-Cure is designed to produce new autologous heart muscle cells which behave identically to those lost in infarction without carrying the risk of rejection.

C-Cure draws on the unrivalled understanding of the fundamental science of heart cell development within Cardio3 BioSciences and on technology developed at Mayo Clinic, one of the world's best respected medical research centres.

In the two-phase, multi-center trial, 240 patients suffering from ischemic cardiomyopathy at 35 sites in eleven countries will be treated with C-Cure. The primary endpoint is a change in left-ventricular ejection fraction at six months post treatment.

About Implantable Cardioverter Defibrillators (ICD)

An ICD is used in patients at risk for recurrent, sustained ventricular tachycardia or fibrillation. The device is connected to leads positioned inside the heart,, which are used to deliver electrical shocks, sense the cardiac rhythm and pace the heart as needed. The various leads are connected to a pulse generator, which is implanted in a pouch beneath the skin of the chest or abdomen. These generators have electronics that automatically monitor and treat heart rhythms recognized as abnormal.

About Cardio3 BioSciences Cardio3

BioSciences is a leading Belgian biotechnology company specialising in stem cell-based therapies for the treatment of cardiovascular disease. The Company's lead product, C-Cure®, is a highly innovative approach to the treatment of heart failure, one of the world's most pressing unmet medical needs. Based on a strategy developed by Cardio3 BioSciences' founders and leveraging technology from Mayo Clinic, C-Cure® allows the differentiation of a patient's own cells into 'cardiopoeitic' cells which grow into new heart cells and repair heart muscle. The Cardio3 BioSciences team has extensive experience in developing and commercializing new pharmaceutical products and medical technologies and the Company's strategy is to drive the clinical development of C-Cure® and to market the product itself in major geographies.
BIOTRONIK
As one of the world's leading cardiovascular medical device companies, with several million implanted devices, BIOTRONIK is represented in over 100 countries with its global workforce of more than 4,500 employees. Known for having its finger on the pulse of the medical community, BIOTRONIK assesses the challenges physicians face, and provides the best solutions for all phases of patient care, ranging from diagnosis to treatment to patient management. Quality, innovation and reliability define BIOTRONIK and its growing success, and deliver confidence and peace of mind to physicians and their patients worldwide.
Press releases you might also be interested in
Weitere Informationen zum Thema "Biotechnik":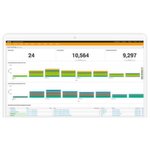 Splunk unterstützt Amazon Kinesis Firehose und GuardDuty
Der Ma­chi­ne-Lear­ning-Spe­zia­list Sp­lunk ist ei­ne st­ra­te­gi­sche Zu­sam­men­ar­beit mit Ama­zon Web Ser­vices (AWS) ein­ge­gan­gen. Ab so­fort sind In­te­g­ra­tio­nen in Ama­zon Ki­ne­sis Fire­ho­se und Guard­Du­ty ver­füg­bar.
Weiterlesen