BIOTRONIK announces positive interim results for its PRO-Kinetic Coronary Stent clinical study
Excellent angiographic results at 6 months for the Multi BENE study using the PRO-Kinetic Stent System with PROBIO® coating
Buelach, Switzerland

, (PresseBox) -
BIOTRONIK welcomed the interim results from the prospective, multicenter, single-arm study that demonstrates efficacy and safety of BIOTRONIK's PRO-Kinetic Coronary Stent System. An analysis of nearly half of the patients showed good device performance; promising MACE, TVR and TVF rates; and no stent thrombosis. The interim results were presented at the annual SOLACI Meeting in Cancun, Mexico.

The Multi BENE (MULTIcentric BElgium/NEtherlands PRO-Kinetic Safety and Efficacy) study was initiated to evaluate the efficacy and safety of the PRO-Kinetic Cobalt Chromium Coronary Stent System. Paul Vermeersch, M.D., from the Antwerp Cardiovascular Institute Middelheim at AZ Middelheim, Antwerp, Belgium, is the co-primary investigator, together with Maarten J. Suttorp, M.D. from St. Antonius Ziekenhuis, Nieuwegein, The Netherlands.

"The interim results we've seen so far from this study have been very promising, especially with the high degree of device, lesion and procedural success. ," said Dr. Vermeersch. "By the time we complete all the patient follow ups, I expect the results to mirror the excellent clinical outcomes we've already seen in our hospital."

Twelve coronary intervention centers in Belgium, the Netherlands and Germany are participating in the study which has enrolled 202 patients, 100 patients with 6-month angiographic follow up. These interim results include 74 patients, with 57 patients receiving angiographic follow up. Total MACE (comprised of cardiac death, MI, TLR and CABG) was 8.1%, all of which was made up of TLR. There was no incidence of cardiac death, MI or stent thrombosis. Six-month QCA data showed in-stent Late Lumen Loss
(LLL) of 0.65 mm. Procedural, lesion and device success was 100%
successful.

"This study shows that PRO-Kinetic is the ideal stent for patients who do not necessarily require a drug-eluting stent," said Vice President of Sales and Marketing, Alain Aimonetti. "With a late lumen loss of 0.65 mm, these results rival some drug-eluting stents. We believe that the combination of our stent design, thin strut thickness and the PROBIO® passive coating are responsible for such excellent outcomes and we look forward to confirming the results when the full 202 patient results come in."

The PRO-Kinetic stent combines an innovative design of ultra-thin cobalt chromium struts with PROBIO® , a silicone carbide layer that improves the stent's heamocompatibility and biocompatibility, to obtain its excellent clinical results. PRO-Kinetic is indicated for the treatment of coronary arteries of 2.0 to 5.0 mm in diameter.

The full 1-year results are scheduled to be presented in 2009.
BIOTRONIK
As one of the worlds leading cardiovascular medical device companies, with several million implanted devices, BIOTRONIK is present in all world markets. Known for having its finger on the pulse of the medical community, BIOTRONIK helps to assess the challenges physicians face, and provides the best solutions, be they cardiac implants, minimal invasive devices or other products and services ranging from diagnosis to electrotherapy and vascular intervention or therapy management. Quality, innovation, and reliability define BIOTRONIK and its growing success, and deliver confidence and peace of mind to physicians and their patients worldwide.
Press releases you might also be interested in
Weitere Informationen zum Thema "Forschung und Entwicklung":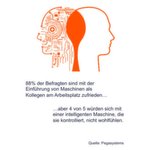 Keine Angst vor dem Kollegen Maschine
Ei­ne ak­tu­el­le Stu­die von Pe­ga­sys­tems zeigt, dass Füh­rungs­kräf­te kei­ne Be­rüh­rung­s­ängs­te be­züg­lich Künst­li­cher In­tel­li­genz (KI) und Au­to­ma­ti­sie­rungs­lö­sun­gen am Ar­beits­platz ha­ben.
Weiterlesen