Ernst & Young present the German Biotechnology Report 2010 in Stuttgart
New rules for the biotech sector
Stuttgart

, (PresseBox) -
Auditors Ernst & Young presented the German Biotechnology Report 2010 at the Landesbank Baden-Württemberg in Stuttgart on 19 May. Many entrepreneurs took up the invitation of BioRegio STERN Management GmbH and LBBW Venture Capital GmbH to learn about the details and analyses of the annual industry survey at first hand.

Dr. Siegfried Bialojan, Executive Director and Head of the European Life Science Centre at Ernst & Young GmbH in Mannheim, provided the highlyanticipated analyses and forecasts for the development of the biotechnology industry: ³The biotech industry is putting up a strong front in this crisis situation.² The revenues, number of companies and the number of employees in the biotechnology industry remained virtually unchanged from the previous year. Only investments in research and development were down on last year, recording a drop of six percent. This year's report was given the title ³Neue Spielregeln² (new rules) to reflect the changes in the sector.

With risk capital in the biotech industry in Germany falling by almost 70 percent to just Euro 69 million and no company going public in 2009, founders, entrepreneurs and investors alike are faced with new challenges.

The managing directors of two successful companies from the STERN BioRegion presented their strategies to a packed conference room at the Landesbank.

Jörg Groth, Managing Director of Blessing Biotech GmbH in Stuttgart, explained how biotechnology can be used to generate revenue in the food processing industry without any inhouse research. The company, which is part of Frutarom Industries Ltd. in Israel and a spinoff of Gewürzmüller GmbH, produces starter cultures primarily for the food industry. Around 30 percent of all processed meat products in Germany contain additives from this Stuttgartbased biotech company that are designed to ensure impeccable hygienic production and consistently high quality.

Dr. Dirk Biskup, Managing Director of CeGaT GmbH, provides his customers, first and foremost, with huge amounts of data: ³We generate around four terrabytes of data each week and often send our customers entire hard drives². The Tübingenbased company, which Dr. Biskup founded jointly with his wife Dr. Saskia Biskup, specialises in highthroughput sequencing for DNA diagnostics. For instance, CeGaT sequences genes on behalf of doctors with the aim of detecting current or future diseases of patients. The startup is also able to sequence entire genomes, for example, to compare tumour tissue with healthy tissue and thus discover the genetic causes of a disease.

True to the principles of Dr. Bialojan, CeGaT GmbH and its seven employees comply perfectly with the industry's ³new rules². Armed with a feasible business plan but no investors, the company uses its technology platform to win the trust of customers before planning any further steps. ³The heady days when drugs developers received endtoend financial support are long gone,² believes Dr. Bialojan. The principle in force today is ³Doing more with less².

LBBW Venture Capital GmbH showed that the biotechnology industry is still a force to be reckoned with ­ and that it is likely to become even more so.

Manfred Peter, member of the management team and Head of Team Life Science, sums up the situation in a nutshell: ³We've been in the black for five years and not a single company has filed for bankruptcy in six years.² Dr. Hanns Frohnmeyer, Head of Life Sciences for Equity Research Institutionals at Landesbank Baden-Württemberg, is confident that life science shares are currently very good value: ³The industry still needs more time to fully mature, but I am very optimistic for the future.²
BioRegio STERN Management GmbH
BioRegio STERN Management GmbH is a skillsharing network, providing a help and advice centre for founders of new businesses, entrepreneurs and researchers in the biotechnology sector in the region comprising Stuttgart, Tübingen, Esslingen, Reutlingen and Neckar-Alb in Germany. BioRegio STERN promotes cooperation between such different disciplines as medicine, biochemical engineering, sensor technology, dietetics, biochemical analysis and bioinformatics. Key areas of focus are regenerative medicine and medical technology. BioRegio STERN represents the interests of founders of new businesses, entrepreneurs and researchers when dealing with the political sector, the media and associations, coordinates economic promotional activities and marketing and provides advice for grant applications and corporate financing, all backed up with efficient press and public relations work. BioRegio STERN is supported by the Stuttgart and Neckar-Alb regional authorities and the municipal authorities of Stuttgart, Tübingen, Esslingen and Reutlingen. The Managing Director, Dr. Klaus Eichenberg, is a molecular and cell biologist and investment analyst.

Press releases you might also be interested in
Weitere Informationen zum Thema "Medizintechnik":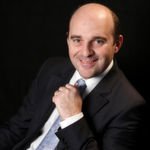 KI wird Mainstream – 5 Prognosen für 2018
Die Künst­li­che In­tel­li­genz wird nach Ein­schät­zung von Chri­s­to­phe Mar­ti­no­li, Vice Pre­si­dent Con­ti­nen­tal Eu­ro­pe beim glo­bal agie­ren­de Tech­no­lo­gie­un­ter­neh­men Wi­pro, ih­ren Sie­ges­zug die­ses Jahr wei­ter fort­set­zen. Fol­gen­de fünf IT-Trends iden­ti­fi­ziert Mar­ti­no­li für 2018.
Weiterlesen