Basler's in-line metrology solutions secure premier quality of Sunfilm solar modules
Ahrensburg

, (PresseBox) -
Sunfilm has integrated three inline Metrology solutions from Basler Vision Technologies into their Applied Materials(TM) SunFab(TM) Thin-Film Line for photovoltaic modules. Sunfilm not only inspects incoming glass, but also incorporated two further test steps in order to provide bestinclass products. In addition to the glass inspection, Sunfilm is using Basler's Sensic inspection equipment to ensure highest quality of the semiconductor coatings on thinfilm modules (CVD) as well as to ensure premier quality of the final product after the lamination process is finished. This 100% quality inspection before and after relevant processing stages goes beyond the approach of other PV module manufacturers and secures Sunfilm a decisive competitive edge.

Basler metrology solutions have been successfully used for the LCD inspection for the last 10 years and have been adapted and optimized to the thinfilm industry.

All three Basler Sensic inspection systems are inlinesystems. They were installed and put into operation with minimal downtime, since Sunfilm's SunFab line was operating in series production throughout the complete integration process. The data exchange between the SunFab's Factory Automation system and Basler's metrology system is realized via the standard industry protocol SECS/GEM, which allows an online and intime data exchange.

"Sunfilm is again demonstrating its technological edge and commitment to constant innovation and latest stateoftheart process control with the implementation of this new generation of inspection tools, developed together with Basler", says Dr. Wilhelm Stein, Chief Engineer at Sunfilm.

Sunfilm is the first Applied Materials customer using tandem junction thinfilm silicon cell structure. This technology allows a larger part of the solar spectrum to be harvested as compared to amorphous silicon thinfilm solar modules, leading to higher module efficiencies.

Following is a selection of Basler's Sensic Thin-Film Inspection Solutions:

Glass Inspection:

Glass inspection solutions from Basler are available for the inspection of incoming goods (TCO coated or uncoated) and monitor cleaning operations carried out in the course of production. The inspection solution is designed as a reliable means of detecting and classifying surface defects and impurities, with a special focus on secure detection of edge defects that could result in glass breakage and result in considerable downtime.

CVD Coating Inspection:

The CVD Coating Inspection is designed for quality control of semiconductor coatings on thinfilm modules, able to provide not only the number, but also the distribution of pinholes in the coating. Pinholes inside the photoactive layer impair the efficiency of solar cells by shortcircuiting. Malfunctions or contamination during the coating process are detected as early as possible and thus provide the basis for further optimization during production. The same solution, but positioned downstream from laser structuring, allows you to run additional checks on quality of your cell structure.

Final Inspection:

Another inspection solution in Basler's Sensic Thin-Film Inspection family is the "Final Inspection", designed for the inspection after the lamination process. The solution encompasses tests on the peripheral and photoactive areas for bubbles, scratches and delamination, and is able to check the presence and position of busbars. Lamination bubbles on the edge of solar modules can result in the penetration of moisture, which can have a direct detrimental influence on the quality and service life of modules.

Basler's Sensic Thin-Film Inspection Solutions help manufacturers in the solar thinfilm industry to improve operations in the various steps of their production process, reduce module breakage rates and, consequently, improve the quality of their thinfilm modules and lower the cost of manufacture. Low initial cost provides a rapid return on investment.

About Sunfilm:

Sunfilm AG is one of the world's largest manufacturers of siliconbased thinfilm modules with a combined capacity of ~85 megawatts peak (MWp) at its two German production sites in Grossroehrsdorf and Bitterfeld/Wolfen. The company has an additional 60 MWp of capacity under construction as well. Thinfilm is one of the fastest growing segments of the solar PV industry. Sunfilm's innovative technology for tandem junction thinfilm silicon solar modules allows a larger part of the solar spectrum to be harvested, leading to higher module efficiencies. Additionally, the amount of silicon needed to produce these modules is significantly less than for silicon wafer based technologies. Sunfilm AG is headquartered in Grossroehrsdorf and employs about 400 people. www.sunfilm.com
Basler AG
Basler designs and manufactures highquality imageprocessing solutions, comprehensive systems for automatic opticbased quality assurance as well as digital cameras. Basler delivers into industrial, medical, and traffic system applications, and also into the video surveillance market.

Our imageprocessing solutions are backed by 20 years of expertise and experience in image processing, electronics, and optics, all geared to meet specific customer requirements and easily integrated into production processes or automation systems.

We have designed and manufactured high quality digital cameras for over ten years. Product designs are driven by industry requirements and offer easy interfacing, compact size, and a strong price/performance ratio.

We will be glad to give you any further information you may require. Please contact us by email at bs.sales.europe@baslerweb.com or on our website http://www.baslerweb.com.

Press releases you might also be interested in
Weitere Informationen zum Thema "Energy / Environment":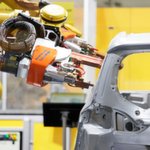 1,7 Millionen Industrie-Roboter erneuern Fabriken weltweit bis 2020
Bis 2020 wer­den mehr als 1,7 Mil­lio­nen neue In­du­s­trie-Ro­bo­ter in den Fa­bri­ken der Welt in­stal­liert. Die Ro­bo­tik-Bran­che in Asi­en ver­zeich­net da­bei ak­tu­ell das stärks­te Wachs­tum – an­ge­führt von Chi­na als Welt­markt­füh­rer. Im Jahr 2017 sind die Ro­bo­ter­in­stal­la­tio­nen in der Re­gi­on Asi­en-Aus­tra­li­en vor­aus­sicht­lich um 21 Pro­zent ge­s­tie­gen, in Nord- und Süda­me­ri­ka um 16 Pro­zent und in Eu­ro­pa um acht Pro­zent. Das sind Er­geb­nis­se aus dem World-Ro­botics-Re­port 2017, der von der In­ter­na­tio­nal Fe­de­ra­ti­on of Ro­botics (IFR) ver­öf­f­ent­licht wur­de.
Weiterlesen