Nutrilife AS M from Cognis - a bakery enzyme to keep bread fresh
Monheim am Rhein

, (PresseBox) -
Consumers expect baked goods to be fresh and tasty - and to help manufacturers meet this demand, specialty chemicals supplier Cognis has now developed the innovative bakery enzyme preparation Nutrilife AS M. This product significantly slows down staling and improves the elasticity of the crumb.

Delicious sandwich bread, tasty soft buns, mouth-watering panettone - all of them taste great when they are fresh. To keep baked goods soft and moist for as long as possible, manufacturers need solutions that combine excellent quality with a great mouthfeel. The new enzyme in Cognis' Nutrilife range is tailor-made for maximum freshness retention in all yeast-raised baked products. Nutrilife AS M can simply be added to any existing formulation in dosages of between 3 and 10 grams per 100 kilograms of flour, depending on the desired shelf life. The significant anti-staling effect makes long supply chains easier to manage and consumers can enjoy bread and buns that stay fresh for longer.

Improved crumb elasticity for long supply chains

In emerging and developed markets alike, demand is particularly strong for solutions that improve the freshness and texture of bread, despite greater levels of processing and longer supply chains. "With Nutrilife AS M, Cognis Nutrition & Health has brought to market an enzyme preparation that perfectly meets these challenges," explains Andreas Funke, Global Product Line Food Ingredients. "It gives bread a lasting crumb structure, without losing softness."

"Taste and freshness will always be the most important buying criteria for bread and bakery products, as a good mouth feel is central to the pleasure of eating them," adds Holger Riemensperger, Director Global Product Line Food Ingredients of Cognis Nutrition & Health. "As part of our Newtrition strategy, Nutrilife AS M helps our customers to produce products with a real feel-good factor, and to fit in with the current wellness trend."

Nutrilife AS M is not currently available in the USA.
BASF Personal Care and Nutrition GmbH
Cognis is a worldwide supplier of specialty chemicals and nutritional ingredients, with a particular focus on the areas of wellness and sustainability. The company employs about 5,500 people, and it operates production sites and service centers in 30 countries. Cognis has dedicated its activities to a high level of sustainability and provides value adding solutions and products based on renewable raw materials. The company serves the food, nutrition and healthcare markets, and the cosmetics, detergents and cleaners industries. Another main focus is on products for a number of other industries, such as coatings and inks, lubricants, as well as agriculture and mining.

Cognis is part of the BASF Group, the world's leading chemical company. In 2009, Cognis recorded sales of about 2.6 billion euros and an Adjusted EBITDA (operating result) of 364 million euros.

Press releases you might also be interested in
Weitere Informationen zum Thema "Forschung und Entwicklung":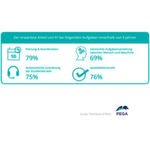 Künstliche Intelligenz sorgt für mehr Transparenz
Ei­ne in­tran­s­pa­ren­te Per­so­nal­po­li­tik hät­te durch den Ein­satz von Künst­li­cher In­tel­li­genz (KI) kaum noch ei­ne Chan­ce, meint et­wa ein Drit­tel al­ler Füh­rungs­kräf­te. Das zeigt ei­ne ak­tu­el­le Stu­die von Pe­ga­sys­tems.
Weiterlesen