Eat. Feel. Live. with Cognis at Vitafoods 2010: Beauty concepts and finished products serving the wellness trend
Monheim am Rhein

, (PresseBox) -
At this year's Vitafoods, Cognis Nutrition & Health presented their latest innovative new products and concepts developed in line with the company's Newtrition(TM) strategy. Cognis defines Newtrition(TM) as 'modern nutrition with a feelgood factor' and each of the products on display was associated with one of four wellbeing benefits identified in that strategy: vitality, protection, inner balance and beauty. Many were finished products, produced in close cooperation with the company's strategic partners.

Beauty concepts

Consumers want to feel good and look good both now and as they grow older. They know about the links between what we eat, our health and our physical appearance and so the market for 'beautyfromwithin' products promises to grow vigorously in years to come.

For customers who want to take advantage of this trend right now, Cognis presented '3 in 1 beauty' - 3 beauty ingredients in 1 convenient soft shell capsule, produced by Swiss Caps. These readytomarket high quality capsules contain three beauty ingredients positioned in Cognis' wellness strategy: Xangold® natural lutein esters; Covitol® naturalsourced vitamin E; and Omevitalä omega-3 fatty acids.

Another beauty concept highlighted at the show is 'Shape Up' that was produced in partnership with Sanomed GmbH. Delivering Tonalin® CLA in a forwardthinking dietary supplement delivery form, ampoules, this brand new delivery form is ideal for consumers who dislike or are unable to take capsules. The target market is active and body conscious people and the multi fruit flavored, pleasant tasting and effective 25 ml supplement for body composition was on display in the Vitafoods "New product zone".

Vitality

'Active Shaper', in its smart aluminium bottle, is a vitality concept containing two premier ingredients from Cognis: Omevital(TM) omega-3 fatty acids and Tonalin® CLA. The product is aimed at active people who enjoy sports. Supplementation with omega-3 secures necessary fatty acid intake while Tonalin® CLA offers daily body shaping with the most clinically tested CLA ingredient in the market. This delicious lemon flavored oil has an excellent sensory profile.

Protection

Applying yet another delivery form, Cognis presented two functional hard candies at the Show. 'Sun & Fun' is an orange flavored hard candy enriched with Xangold® natural lutein esters. It has been demonstrated that lutein can help to keep the skin healthy by enhancing its natural defenses against UV radiation, improving skin elasticity and offering protection from premature aging.

Inner Balance

The second hard candy is 'Sweet Balance,' for those who want to improve their 'inner balance' and feel more relaxed. Containing Omevital? omega-3 fatty acids, which studies have shown may help to improve mood, the candy is swirled with a soothingly sweet apple flavor.

'Pure Harmony' is an orange flavored liquid in a round glass bottle, aimed at those seeking inner balance to help manage the demands of daily life. It features Omevital? omega-3 marine fatty acids and is made at the company's own production, bottling and labeling plant in Norway.

"The aim of our Newtrition strategy is to close the gap between how people feel and how they want to feel, by putting the wellbeing benefits consumers want into food, beverage and dietary supplement products," said Gerhard Lobmaier, Vice President Marketing Nutrition & Health. "We have developed our own wellness model to align our strengths and competencies with market demands, offering concepts and ideas for nutritional products that support the wellness megatrend and set our customers' brands apart from the competition."

The updated Nutrition & Health section on the Cognis internet provides customers, journalists and the general public with detailed information about the Newtrition(TM) strategy and the products and concepts that Cognis Nutrition & Health offers. Please follow this link to visit the new section: http://www.cognis.com/company/Businesses/Nutrition+and+Health/
BASF Personal Care and Nutrition GmbH
Cognis is a worldwide supplier of specialty chemicals and nutritional ingredients, with a particular focus on innovative products in the areas of wellness and sustainability. The company employs about 5,600 people, and it operates production sites and service centers in 30 countries. Cognis has dedicated its activities to a high level of sustainability and provides value adding solutions and products based on renewable raw materials. The company serves the food, nutrition and healthcare markets, and the cosmetics, detergents and cleaners industries. Another main focus is on products for a number of other industries, such as coatings and inks, lubricants, as well as agriculture and mining.

Cognis is owned by private equity funds advised by Permira, GS Capital Partners, and SV Life Sciences. In 2009, Cognis recorded sales of about 2.6 billion euros and an Adjusted EBITDA (operating result) of 364 million euros.

Press releases you might also be interested in
Weitere Informationen zum Thema "Medizintechnik":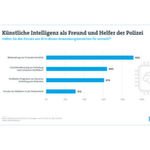 Mehrheit befürwortet KI-Systeme in der Polizeiarbeit
Laut ei­ner Um­fra­ge des Di­gi­tal­ver­bands Bit­kom be­für­wor­ten rund sechs von zehn Bun­des­bür­gern (61 Pro­zent) den Ein­satz von Künst­li­cher In­tel­li­genz (KI) zur Prog­no­se von Straf­ta­ten. Die Po­li­zei könn­te so früh­er ih­re Prä­senz an po­ten­zi­el­len Ta­t­or­ten ver­stär­ken.
Weiterlesen