Cognis Texapon K 12 P PH: SLS-based tabletting agent now GRAS for dietary supplements
Monheim am Rhein

, (PresseBox) -
When formulating dietary supplement tablets and capsules, manufacturers need powerful tabletting agents to guarantee consistently high quality. Texapon K 12 P PH, a pharmaceutical grade sodium lauryl sulfate (SLS), from specialty chemicals supplier Cognis has now achieved selfaffirmed GRAS (Generally Recognized As Safe) status. GRAS status is recognition that Texapon K 12 P PH can now be used for dietary supplements in the USA and that it has been shown to be safe under the conditions of intended use. Texapon K12 P PH is particularly efficient in tabletting processes due to its small and consistent particle size.

Sodium lauryl sulfate (SLS) is a frequently used tabletting aid that works as a wetting agent, lubricant or solubilizer. Texapon K12 P PH, a pharmaceutical grade SLS powder from Cognis, exhibits a performance profile that makes it ideal for the manufacture of tablets and capsules. Cognis selfaffirmed Texapon K12 as GRAS on March 31 in consultation with a panel of independent experts. Dietary supplement and food manufacturers can now use SLS in two daily doses of up to 30 mg/day. Texapon K 12 P PH also meets other important international regulations, including USP/NF, Ph. Eur. and JP standards, and is kosher certified.

Wetting agents are used in the manufacture of tablets and capsules such as dietary supplements to aid water uptake during disintegration, and facilitate the dissolution of active ingredients. Because of its very low particle size, Texapon K 12 P PH delivers outstanding performance and enhanced product quality. The product is also very efficient in the tabletting process. In addition, it offers a range of new options to formulators and manufacturers of dietary supplements, as they are more stable with some actives than competing products.

High quality and efficiency

Texapon K 12 P PH is a highly pure SLS powder grade from Cognis. It is produced in accordance with strict quality requirements (IPEC-PQG GMP) that ensure traceability. Says Thomas Rosen, Global Product Line Manager Pharmaceuticals & Healthcare at Cognis: "Texapon K 12 P PH can give manufacturers a double benefit, helping them to improve tablet quality while also ensuring high efficiency. Their excellent wetting capabilities, low particle size and uniform quality that our production processes ensure are key to providing these benefits."

Adds John Giannone, Marketing & Business Manager Pharmaceuticals & Healthcare North America at Cognis: "Now that we have gained GRAS status, formulators and manufacturers of dietary supplement tablets and capsules can use them in the US and other countries. As these SLSbased wetting agents are very effective, we believe they will be a key advantage in this market."
BASF Personal Care and Nutrition GmbH
Cognis is a worldwide supplier of specialty chemicals and nutritional ingredients, with a particular focus on the areas of wellness and sustainability. The company employs about 5,600 people, and it operates production sites and service centers in 30 countries. Cognis has dedicated its activities to a high level of sustainability and provides value adding solutions and products based on renewable raw materials. The company serves the food, nutrition and healthcare markets, and the cosmetics, detergents and cleaners industries. Another main focus is on products for a number of other industries, such as coatings and inks, lubricants, as well as agriculture and mining.

Cognis is owned by private equity funds advised by Permira, GS Capital Partners, and SV Life Sciences. In 2009, Cognis recorded sales of about 2.6 billion euros and an Adjusted EBITDA (operating result) of 364 million euros.

Press releases you might also be interested in
Weitere Informationen zum Thema "Medizintechnik":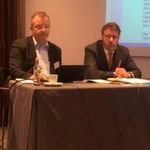 Bundesverband Künstliche Intelligenz will KI-Einsatz voranbringen
Sprach­rohr der KI-Bran­che soll der neue Bun­des­ver­band Künst­li­che In­tel­li­genz sein, der am Mit­te März von 24 Un­ter­neh­men ge­grün­det wur­de. Zu den Zie­len ge­hört För­de­rung ei­nes Men­schen-zen­trier­ten und Men­schen-di­en­li­chen Ein­sat­zes von KI-Tech­no­lo­gi­en.
Weiterlesen