BASF announces milestones in new Agricultural Solutions strategy
Ludwigshafen, Germany

, (PresseBox) -
.
- Independent assurance of AgBalance, a method for measuring sustainability in agriculture
- New business pillar develops solutions to manage resource and plant stress, protect environment
- Ambitious 2020 Crop Protection sales target
- Advancements in plant biotechnology with focus on yield and nutrition

BASF today gave a progress report on its integrated farmer-focused approach to agricultural sustainability, first announced in September 2009. Milestones included the assurance of a new method for the comparative assessment of sustainability in agriculture, the creation of a new business pillar charged with developing solutions for resource and stress management and the introduction of integrated solutions to growers' needs. The company also gave an update on the rapid advancement of its plant biotechnology trait pipeline.

"Our new strategic approach looks at the complex challenges farmers face and offers integrated solutions for greater productivity and profitability on the one hand and environmental as well as social compatibility on the other," said Dr. Stefan Marcinowski, Member of the Board of Executive Directors, BASF SE. "These solutions come from our crop protection and plant biotechnology pipelines."

The company also announced a sales target of €6 billion by 2020 for its Crop Protection business. One important pillar of the division's business will remain mature markets in Europe, North America and Japan. But the company expects even stronger growth from emerging markets. Latin America plays a major role in this growth strategy. Other emerging markets, particularly in Asia, are expected to see significant momentum. The company also named India a core strategic market due to its recent business success and future growth potential. Sales in Asia are expected to increase to €1 billion by 2020 from €400 million in 2010, with the Indian Samruddhi advisory program serving as a blueprint for other Asian countries.

AgBalance - new method to assess sustainability in agriculture

After two years in development, AgBalance, BASF's holistic method for assessing sustainability in agriculture, received independent assurances this autumn from three global expert agencies: The TÜV SÜD, DNV Business Assurance and NSF International. AgBalance is a comparative lifecycle analysis that assesses sustainability in all three dimensions: economy, ecology and society. With AgBalance, BASF has developed a unique method that can calculate scenarios and offer potential solutions to increase sustainability in farming.

New Strategic Unit - Sustainability and Product Stewardship

One of the first major initiatives following the 2009 strategic shift was a new global unit dedicated solely to sustainability and product stewardship. The unit is responsible for creating and maintaining a global network that can drive sustainability and product stewardship concepts throughout the organization. One of the team's first priorities is to launch AgBalance. Team members have been working closely with regional associates and business partners on initial studies. The unit will continue to integrate AgBalance into BASF's business activities.

Functional Crop Care - new pillar for resource and stress management

To improve marketable yield and agricultural sustainability even further, BASF is also looking beyond the boundaries of traditional crop protection products and methods. A new unit, called Functional Crop Care, is tasked with developing new and better ways to help farmers manage resources and reduce crop stress, bringing clear environmental and yield benefits.

This new global unit, which builds on BASF's pioneering work in the area of plant health, focuses on three main product clusters: water management, plant health and nitrogen management. It relies on BASF's Knowledge Verbund and long tradition in the fields of chemistry and agronomy to offer innovative solutions to growers and agricultural professionals, such as improving a crop's use of nutrients and water and reducing plant stress of drought or heat. BASF expects innovative solutions from this new unit to make a positive contribution to profitability by 2015.

Highlights from BASF Plant Science

BASF Plant Science expects to become the first company to bring products with yield traits jointly with its partners to market, thus contributing to the sustainability of agriculture.

BASF Plant Science is also involved in trait development for products with an enhanced nutritional value. The most recent example focuses on heart healthy EPA/DHA omega 3 long chained fatty-acids in canola plants. An agreement signed with US-based Cargill, the market leader in vegetable oil, trading and application, will open up new applications to provide customers with a convenient and easily available source of EPA/DHA. First products containing oils from EPA/DHA omega 3 canola plants are expected to hit the market by the end of the decade.

BASF Plant Science's unique technology platform is a key feature that enables it to join forces with market leaders like Monsanto, Bayer CropScience or KWS and cover the major crops. This platform is based on phenotyping and metabolite profiling of plants, and has delivered many promising lead genes for various yield and stress pipeline projects.
BASF SE Kommunikation BASF-Gruppe
BASF is the world's leading chemical company: The Chemical Company. Its portfolio ranges from chemicals, plastics, performance products and agricultural products to oil and gas. As a reliable partner BASF creates chemistry to help its customers in virtually all industries to be more successful. With its high-value products and intelligent solutions, BASF plays an important role in finding answers to global challenges such as climate protection, energy efficiency, nutrition and mobility. BASF posted sales of about €63.9 billion in 2010 and had approximately 109,000 employees as of the end of the year. BASF shares are traded on the stock exchanges in Frankfurt (BAS), London (BFA) and Zurich (AN). Further information on BASF is available on the Internet at www.basf.com or in its Social Media Newsroom at newsroom.basf.com.

About the Crop Protection division

With sales of €4.0 billion in 2010, BASF's Crop Protection division is a leader in crop protection and a strong partner to the farming industry providing wellestablished and innovative fungicides, insecticides and herbicides. Farmers use these products and services to improve crop yields and crop quality. Other uses include turf and ornamental plants, structural/urban pest control, and forestry.

BASF aims to turn new knowledge rapidly into market success. The vision of BASF's Crop Protection division is to be the world's leading innovator, optimizing agricultural production, improving nutrition, and thus enhancing the quality of life for a growing world population. Further information on BASF Crop Protection can be found on the web at www.agro.basf.com or follow us on twitter: www.twitter.com/basfagro.

About BASF Plant Science

BASF Plant Science, a BASF group company, is one of the world's leading companies providing innovative plant biotechnology solutions for agriculture. Today, more than 750 employees are helping farmers meet the growing demand for improved agricultural productivity and healthier nutrition for humans and animals. BASF Plant Science has developed an unparalleled gene discovery platform focusing on yield and quality traits in crops such as corn, soybean and rice. Jointly with leading partners in the seed industry BASF Plant Science is commercializing its products. Current projects include higher yielding row crops, nutritionally-enhanced corn for animal feed or higher content of Omega-3's in oil crops for preventing cardiovascular diseases. For more information, visit www.basf.com/plantscience.
Press releases you might also be interested in
Weitere Informationen zum Thema "Forschung und Entwicklung":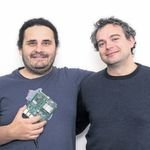 Diagnose mit der Intelligenz des Bauchgefühls
Ein Sound-Er­ken­nungs­sys­tem ana­ly­siert tech­ni­sche Pro­b­le­me bei Ma­schi­nen auf der Grund­la­ge von Be­triebs­ge­räu­schen und löst Alarm aus.
Weiterlesen