Innovations for more sustainability
BASF's latest Coatings Partner e-journal presents new coating technologies and color trends
Münster

, (PresseBox) -
Which automotive colors will we be seeing on the roads in the coming years? How will wind turbine rotor blades be protected from the elements at high altitudes? BASF's new Coatings Partner e-journal uses examples from all regions to demonstrate how new paint systems contribute to more protection and decoration and at the same time, are easy on the environment. In addition to the up-and-coming color trends for the automotive and motorcycle industry, innovative technologies are presented that can be used to coat cars, trains and wind turbines and buildings. The e-journal can be downloaded in German and English from the Coatings Partner website at www.coatingspartner.com. The French and Spanish editions will also be available there shortly.

Intelligent paint systems

The cover of the new e-journal shows the new energy-efficient smart forvision electrocar that Daimler and BASF jointly presented at the 2011 IAA automotive show. Intelligent paint systems such as the glossy metallic Liquid Metal coating, the white special-effect paint for all-plastic wheel rims or the highly scratch-resistant clearcoat iGloss® make the electric car a stylish trendsetter.

BASF was also a trendsetter when it launched production of Europe's first waterborne automotive OEM coating 25 years ago. The significance of waterborne basecoats is rising throughout the world. The Asian markets are also increasingly using this environmentally friendly technology.

RELEST - Powerful industrial coatings brand

With the RELEST® product name, all RELIUS industrial coatings products' affiliation with the BASF family will be much more obvious in the future. In an interview, Anne Heimes-Scheller, Marketing Management Industrial Coatings Solutions Europe, and Dr. Achim Gast, Director Post-Coatings/Industrial Coatings Solutions, explain what's behind the strategy.

Coatings Partner on the Internet

In addition to the current e-journal, you can also order the 40-page printed version of the customer magazine, which is published once a year, in German and English at www.coatingspartner.com. Additional issues of the e-journal, movie clips, image galleries and podcasts are also available, along with an archive of articles arranged by region and area of work. Coatings Partner targets customers and business partners, as well as the interested public.

About BASF

BASF is the world's leading chemical company: The Chemical Company. Its portfolio ranges from chemicals, plastics, performance products, and agricultural products to oil and gas. As a reliable partner BASF creates chemistry to help its customers in virtually all industries to be more successful. With its high-value products and intelligent solutions, BASF plays an important role in finding answers to global challenges such as climate protection, energy efficiency, nutrition and mobility. BASF posted sales of more than €63.9 billion in 2010 and had approximately 109,000 employees as of the end of the year. Further information on BASF is available on the Internet at www.basf.com or in the Social Media Newsroom at newsroom.basf.com.
BASF Coatings GmbH
BASF Coatings develops, produces and markets a high-quality range of innovative automotive OEM coatings, automotive refinishes and industrial coatings as well as decorative paints. BASF has significant market positions in the Coatings sector in Europe, North America, South America and the Asia/Pacific region. In 2010 BASF Coatings achieved global sales of almost 2.6 billion Euros. The internet address of BASF Coatings is www.basf-coatings.com. You can download a copy of BASF customer magazine Coatings Partner from www.coatingspartner.com
Press releases you might also be interested in
Weitere Informationen zum Thema "Fahrzeugbau / Automotive":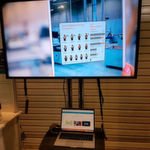 Das bietet Indoor Navigation kombiniert mit AR
In­s­i­der Re­se­arch im Ge­spräch mit In­s­i­der Na­vi­ga­ti­on: Auf dem Du­b­lin Tech Sum­mit traf Oli­ver Schon­schek von In­s­i­der Re­se­arch Cle­mens Kir­ner, Aug­men­ted-Rea­li­ty-Ex­per­te und Grün­der von In­s­i­der Na­vi­ga­ti­on.
Weiterlesen