Luvitec® gets new packaging
New packaging protects high molecular weight powder from oxidation
Ludwigshafen

, (PresseBox) -
Now a new plastic film gives even better protection to Luvitec® high molecular weight powders from penetrating oxygen from the air. Luvitec® (polyvinylpyrrolidone, abbreviation: PVP) is an important component in the manufacture of specialty membranes and specialty adhesives. "With the new packaging, we can guarantee our customers even better and, in particular, consistent product quality. The membrane industry in particular is dependent on consistent product properties and purity," explains Dr. Markus Lohscheidt, Global Business Management PVP at BASF.

The new film offers reliability

The new packaging made of ethylene vinyl alcohol plastics (abbreviation: EVOH) gives the high molecular weight PVP powders reliable protection from oxidation. The EVOH film has optimum sealing properties. It also has excellent chemical resistance, very good tensile strength, and is impermeable to gases and fluids. Thus, all the relevant product properties remain protected, not just now but for years to come. BASF guarantees a shelf life of up to three years for high molecular weight powders.

Highest product quality for sensitive membranes

Specialty membranes made of plastic materials are essential where gentle methods are required to clean or keep materials separate, in other words without using heat or chemicals. Ultrafiltration membranes, for example, keep drinking water free of bacteria and viruses. And they are used in dialysis to wash toxins out of human blood. By using Luvitec, thousands and thousands of tiny pores and channels are created in the membrane. They are essential for the separation process.

About Polyvinylpyrrolidone (PVP)

PVP is a product that has been a success story for a long time now. About 70 years ago the chemist Walter Reppe, working in a BASF laboratory in Ludwigshafen, used acetylene and pyrrolidone to produce a new monomer called vinylpyrrolidone, which in turn can be transformed into the polymer polyvinylpyrrolidone. Quickly it became clear that the BASF researcher had discovered a veritable all-rounder: PVP is soluble in water, but it can also absorb large quantities of water; it is non-irritant to the skin and does not pose a health hazard; it is temperature-resistant, pH-stable, non ionic and colorless. Due to these varied features PVP can be used for a wide range of applications. PVP is used in various BASF product lines, including Kollidon® as a pharmaceutical excipient, Luviskol® as a component of hair gels and hair sprays, Sokalan® HP as detergent additive and Divergan® that is used in the filtration of beer and in the treatment of wine.

Further information about PVP can be found at:
www.luvitec.de
www.kollidon.de
www.cosmetics.basf.de
www.divergan.basf.de
BASF AG
BASF is the world's leading chemical company: The Chemical Company. Its portfolio ranges from chemicals, plastics, performance products and agricultural products to oil and gas. As a reliable partner BASF creates chemistry to help its customers in virtually all industries to be more successful. With its high-value products and intelligent solutions, BASF plays an important role in finding answers to global challenges such as climate protection, energy efficiency, nutrition and mobility. BASF posted sales of about €63.9 billion in 2010 and had approximately 109,000 employees as of the end of the year. BASF shares are traded on the stock exchanges in Frankfurt (BAS), London (BFA) and Zurich (AN). Further information on BASF is available on the Internet at www.basf.com or in its Social Media Newsroom at newsroom.basf.com.
Press releases you might also be interested in
Weitere Informationen zum Thema "Produktionstechnik":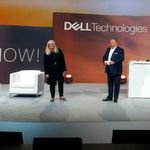 Digitalisierung erfordert nahtlose Kommunikation
Dells Ta­ges­ver­an­stal­tung The Next Now! In Mün­chen woll­te Hil­fe­stel­lung leis­ten auf dem Weg zur Di­gi­ta­li­sie­rung der Un­ter­neh­men in Deut­sch­land. Wel­che St­ra­te­gi­en und Rah­men­be­din­gun­gen er­wei­sen sich als güns­tig, was soll ver­mie­den wer­den?
Weiterlesen