Atos Origin is supporting EFFIA on the self-service bicycle market
Paris

, (PresseBox) -
Atos Worldline, an Atos Origin Company, has signed a contract with EFFIA, the subsidiary of SNCF that is responsible for passenger public transport services, to support the launch of its Vélossimo offering. This new service allows passengers to easily and quickly rent and return bicycles at stations at any time of day or night. Atos Worldline will design, build and run the central IT system of the service, firstly deployed by EFFIA in the Orléans Val de Loire French urban area and was selected because of its proven experience in the implementation of innovative solutions.

The bicycle is now becoming more important in terms of urban transport, with many people choosing to cycle to the train or bus station. For this reason many public authorities are developing policies to facilitate the use of the bicycle and improve services for passengers. The Orléans Val de Loire urban area is the first local authority in France to implement an automated rental bicycle system and has appointed EFFIA, under a ten-year contract, to implement and run the service.

Named vélo'+, the 24/7 self-service bicycle rental system provides 300 bicycles across 28 stations over the whole Val de Loire Urban Area, thus allowing the Orléans residents to borrow and return a bicycle in any stations at any time of the day or night.

This innovation desired by EFFIA has been made possible thanks to the central IT system developed by Atos Worldline. Customers can access the service via the Internet, over the telephone or directly at the terminal. Again using Atos Worldline's innovative system, it is also possible to consult bicycle availability in real time using the Internet or Internet Mobile.

Atos Worldline was chosen by EFFIA for the development, implementation, running, secure hosting and maintenance of vélo'+'s central IT system. Its primary function is the dialogue management with the terminals, subscribers' management and users' accounts management. It also allows service consumption statistics to be established and serves as an interface with the maintenance system. Technical information on the equipment is fed back thanks to RFID chips tagged to the bicycle or by entering it directly at the terminal. This information is ultimately passed on to a maintenance team.

Atos Worldline has also developed and hosts the website and the Internet Mobile service that allow users to remotely obtain information about the vélo'+ system, but above all to take out a subscription by bank card via a secure online transaction using Atos Worldline's secure internet payment service (SIPS) solution.

"We selected Atos Worldline not only for its long-term partnership with SNCF, but also for its proven experience and expertise in the implementation of innovative technological solutions. The Atos Worldline team provided us with the information that we needed to meet our extremely tight 3-month deadline," said Florence Larcher, EFFIA's bicycle project manager.

"We are delighted that EFFIA, a subsidiary of SNCF awarded us with the design, build and run of their innovative project. This new contract underlines our capabilities to deliver new and innovative solutions that bring value to our clients and their clients' too. We are looking forward to support EFFIA in the future deployment of its service," declared Stéphane Vittu, Atos Worldline's Public Sector, Health and Transport Director.

About Atos Origin
Atos Origin is an international information technology services company. Its business is turning client vision into results through the application of consulting, systems integration and managed operations. The company's annual revenues are EUR 5.8 billion and it employs 50,000 people in 40 countries. Atos Origin is the Worldwide Information Technology Partner for the Olympic Games and has a client base of international blue-chip companies across all sectors. Atos Origin is quoted on the Paris Eurolist Market and trades as Atos Origin, Atos Worldline and Atos Consulting.
Worldline Germany
Atos Worldline, an Atos Origin company Atos Worldline is a major European player in the processing of high-volume electronic transactions, specialized in end-to-end payment services – issuing, acquiring and developing payment technology solutions – card processing, CRM and eServices (internet, voice and mobile services). With the focus on technological innovation, Atos Worldline implements its solutions in processing or integration mode.The acquisition and integration of Banksys and Bank Card Company in December 2006 into Atos Worldline has created a European leader in Payment Services, with combined pro forma 2006 revenues of EUR 630 million and 4,000 employees.
Press releases you might also be interested in
Weitere Informationen zum Thema "Fahrzeugbau / Automotive":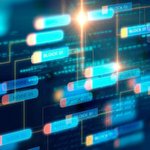 Blockchain wird 2018 das IoT revolutionieren
Nach Ein­schät­zung des eco-Ver­bands wird 2018 ein "ech­tes" Block­chain-Jahr. Die Zahl der kon­k­re­ten Bu­si­ness-An­wen­dun­gen wächst ste­tig. Neue Block­chain-Kon­zep­te wie Ethe­re­um oder Hy­per­led­ger Fa­bric sor­gen für mehr Per­for­man­ce und kom­men so dem In­ter­net der Din­ge (IoT) zu­gu­te.
Weiterlesen