Jemgum natural gas storage facility opens
State Premiere Weil:"Salt cavern storage facility is the backbone for wind and solar energy."
Jemgum

, (PresseBox) -
After around five years of construction, astora GmbH & Co. KG today(12.09.2013) commissioned one of the highest-performance and largest cavern storage facilities in Germany in Jemgum, Lower Saxony at the official opening ceremony. Lower Saxony's state premiere Stephan Weil underlined the special significance of the storage project for energy policy in a welcome message: "Lower Saxony is Germany's number one energystate," Weil said, adding thatthe new storage facility in Jemgum represented another important milestone for the future. "The storage facility makes a key contribution to supply security, thus highlighting the central role Lower Saxony plays as a natural gas hub for northwest Europe. On the one hand, natural gas storage facilities help to balance out seasonal fluctuations in natural gas consumption. On the other, they can cushion the effects of fluctuations in power generation from the wind and the sun - hence, they are effectively the backbone of the energy transition," Weil said.

The storage facility will also be continuously expanded after commissioning. By 2018 the storage facility operator, astora, will create ten caverns in total in the salt dome in Jemgum. These will be able to take in up to a billion cubic meters of natural gas - enough capacity to supply more than half a million households with natural gas for a whole year.

In contrast to aquifer reservoir storage facilities, the entire storage volume of cavern storage facilities can be injected or withdrawn in a comparatively short space of time because the natural gas does not have to make the long journey through rock first. Hence, up to a million cubic meters of natural gas can be withdrawn in an hour in Jemgum. This means the entire storage volume can be made available within about 1,000 hours. With aquifer reservoir storage facilities this usually takes twice as long. This feature makes the storage facility an attractive partner for renewables: if at any moment solar and wind energy cannot cover demand for electricity, natural gas from a cavern storage facility in combination with gas-fired power stations can balance out the load peaks in a very short time.

Furthermore, the storage facility has excellent infrastructure links, to the transportation grids of GASCADE Gastransport GmbH and Dutch Gas Transport Services B.V. (GTS), and is thus ideally positioned to store natural gas from the Nord Stream Baltic Sea pipeline, for example.

The owners of the storage facility are WINGAS GmbH, based in Kassel, and VNG Gasspeicher GmbH in Leipzig, which owns a sixth of the overall facility. astora GmbH & Co. KG, a subsidiary of WINGAS, is responsible for the construction and operation of the storage facility. Overall the companies are investing several hundred million euros in the construction of the facility.

Technological benchmarks

In setting up the storage facility, artificial cavities, so-called "caverns", are created in a salt dome at a depth of 1,150 to 1,600 meters. Compressors then inject the gas into the caverns at high pressure. The storage facility in Jemgum provides a supply of natural gas that is both reliable and flexible.

With the new natural gas storage facility, astora is also setting new technological benchmarks in several ways: one example is the technique of high-precision directional wells drilled in an S-shape. This way up to six cavern boreholes can be operated from one cluster site. This has the advantage that the surface area required above ground is kept to a minimum, and the natural surroundings and landscape are preserved. In addition, in Jemgum there is also a back compression plant for the gas, which means that the storage facility can be operated almost entirely without emissions.

The close cooperation with EWE, which operates its own storage facility in the immediate vicinity, also made it possible to minimize the impacton nature and the landscape from the energy supply and the transportation of the brine. Hence, the saturated salt solution generated in Jemgum, also known as brine, is sent directly to the North Sea via a 40-km-long pipeline by using an existing section of the MIDAL pipeline.

astoraManaging Director Andreas Renner thus sees the facility in Jemgum as a high-tech storage facility to accommodate demanding requirements and an important element for the company's future strategic position: "As an innovative cavern storage facility, Jemgum complements astora's existing aquifer reservoir storage facilities perfectly," Andreas Renner says. "With this portfolio we have an excellent basis for positioning ourselves successfully as one of the largest storage operators in Europe in future too."
astora GmbH & Co. KG
astora GmbH & Co. KG, based in Kassel,is one of Europe's leading storage facility operators. The company has at its disposal the largest natural gas storage facility in Western Europe, at Rehden in northern Germany, with a working gas volume of more than 4 billion cubic meters. In addition, the company holds capacities in the second-largest storage facility of central Europe at Haidach, Austria. The Jemgum natural gas storage facility on the border between Germany and the Netherlands launched in September 2013also helps ensure a secure supply of natural gas for Europe.

More information on the internet at www.astora.de
Press releases you might also be interested in
Weitere Informationen zum Thema "Energie- / Umwelttechnik":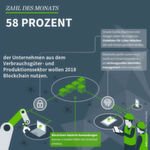 58 Prozent der Unternehmen wollen Blockchain nutzen
Die Mehr­heit der Un­ter­neh­men aus dem Ver­brauchs­gü­ter- und Pro­duk­ti­ons­sek­tor ist da­von über­zeugt, dass die Block­chain-Tech­no­lo­gie zu den viel­ver­sp­re­chends­ten In­no­va­tio­nen ge­hört und das Po­ten­zial hat, Wirt­schaft und Ge­sell­schaft tief­g­rei­fend zu ve­r­än­dern.
Weiterlesen