Arburg with future trends in Sweden: Electric Allrounder and complex automation
New electric Allrounder 270 A / Production cell with integrated assembly steps
Loßburg

, (PresseBox) -
On stand no. A07:82 in Hall A at the Elmia Polymer, which will take place from 5 to 8 May 2009 in Jönköping, Sweden, Arburg will be presenting its range of products and services as well as future trends in injection moulding with two exhibits. One of these will be the new electric Allrounder 270 A, which will produce a precision moulded part. The second exhibit is a complex production cell incorporating a hydraulic Allrounder 370 S, which will demonstrate the encapsulation of inserts and the integration of downstream assembly steps.

"Despite current curbs on capital expenditure, we expect a positive outcome at the trade fair. We are guardedly optimistic about the year 2009 in spite of the recession, and see potential particularly in the packaging and medical sectors," says Stefan Folkesson, Managing Director of RAFO AB and Arburg trading partner in Sweden, cautiously expressing expectations in the run-up to the Elmia Polymer. "Speed and precision are in demand in both these sectors. We will therefore be presenting the new electric Allrounder 270 A. Another future trend is automation and the integration of downstream production steps, enabling cost-efficient production, even in high-wage countries. We will present this with a production cell incorporating a hydraulic Allrounder 370 S," says Stefan Folkesson, explaining the company's objectives in presenting these exhibits.

Expansion of the electric Alldrive series

With the premiere of the two new Allrounder 270 A and 720 A machines at the Arburg Technology Days in March 2009, Arburg has extended its range of electric machines at both ends of the size spectrum. The Allrounder 270 A will make its European trade fair debut at the Elmia Polymer.

This exhibit has a distance between tie bars of 270 x 270 millimetres, a clamping force of 350 kN and a size 70 injection unit with a maximum shot weight of 21 g of PS. The machine will demonstrate the production of a thin-walled printed circuit board with a length of about 2.5 centimetres, featuring 20 precision holes arranged in pairs.

Modular system with six machine sizes

With these two new machine sizes, the Alldrive series now encompasses six sizes and a clamping force range from 350 to 3,200 kN. Principal characteristics of Allrounder A machines are their speed, precision and energy efficiency. The main axes, with servo-electric drive as standard, enable simultaneous movements and consequently short cycle times. Depending on requirements, the auxiliary axes can either be driven electrically like the main axes, or hydraulically by means of an integrated small-accumulator hydraulic system. A further advantage of these electric machines is their low energy consumption. Accordingly, all Alldrive machines bear the Arburg "e2" energy-efficiency label.

Fully automated encapsulation of inserts

The second exhibit is a complex production cell with an Allrounder 370 S with a clamping force of 600 kN and size 170 injection unit. This system will demonstrate not only the encapsulation of inserts, but also the integration of downstream assembly steps. The Allrounder operates with an Arburg Multilift V robotic system, which enters vertically into the mould and is fully integrated in the Selogica machine control system. A toy buggy made from PP will be produced, the metal axles of which are encapsulated in plastic. In this application, the complex gripper of the robotic system inserts the metal axles, removes the sprue and the individual components and subsequently assembles them to produce the finished toy car.

Flexible products and comprehensive expertise

With this exhibit, Arburg will demonstrate the flexibility of its machines and robotic systems as well as the expertise of its project department, which assumes the role of general contractor and designs, implements and commissions customer-specific systems.

Focus on the Swedish customers' requirements

Stefan Folkesson stresses the importance of the exhibited machines for Arburg's continued strategic focus on the Swedish plastics market: "Practical, intelligent solutions are always in demand, not just in times of economic crisis. Complex production cells with integrated production steps for the cost-efficient production of moulded parts are a very significant future trend. In addition, in the Swedish market we are seeing increased demand for energy-optimised, fast and precise machines. These requirements are particularly well satisfied by the electric Allrounders, as their modular design allows them be equipped to suit individual needs."
ARBURG GmbH + Co KG
Arburg, a German machine construction company, is one of the leading global manufacturers of injection moulding machines for plastics processing with clamping forces between 125 kN and 5,000 kN. Fields of application include the production of plastic parts for motor vehicles, communications and consumer electronics, medical technology, domestic appliances and packaging. The product range is completed by robotic systems, complex projects and other peripherals. Arburg's operations are coordinated by an integrated management system and are DIN EN ISO 9001 and 14001 certified. Arburg is represented by its own organisations in 24 countries at 32 locations and by trading partners in more than 50 countries. However, production takes place exclusively in the parent factory in Lossburg (Germany) - with the mark of quality "made by Arburg - made in Germany". From a total of more than 2,000 Arburg employees, around 1,700 work in Germany. Around 330 further employees work in Arburg's organisations around the world.

Further information about Arburg can be found at www.arburg.com

Press releases you might also be interested in
Weitere Informationen zum Thema "Maschinenbau":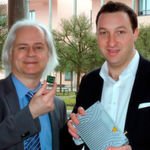 Sigfox und TH Deggendorf forschen am "1 Euro IoT"
Der IoT-Ser­vice­pro­vi­der Sig­fox wird künf­tig ge­mein­sam mit der Tech­ni­schen Hoch­schu­le Deg­gen­dorf am "1 Eu­ro Io­T" for­schen. Als Grund­la­ge di­ent da­bei das Low-Po­wer-Wi­de-Area-Netz­werk von Sig­fox.
Weiterlesen