Arburg presents future trends at the FIP 2009
High-speed packaging application on electric Allrounder / Complex production cell with integrated assembly steps
Loßburg

, (PresseBox) -
At the French FIP trade fair in Lyon, to be held from 16 to 19 June 2009, Arburg will present its performance spectrum and the latest injection moulding trends in the fields of high-speed applications and automation with two exhibits. At exhibition stand no. D36/C35 in Hall 4, an electric Allrounder 570 A with a high speed packaging application and a complex production cell built around a hydraulic Allrounder 370 S, demonstrating the encapsulation of inserts and the integration of downstream assembly steps, will be on show.

"Despite negative developments in the French plastics market during the first half year, we are cautiously optimistic for the second half of 2009," says Marc Schuh, the new Arburg subsidiary manager in France since 1 Mai 2009, assessing the situation prior to the start of the FIP. "We believe that the field of automation with the integration of downstream production steps is particularly promising. We will therefore be presenting a production cell built around a hydraulic Allrounder 370 S with an Arburg Multilift V robotic system. The second exhibit will be an electric Allrounder 570 A with a high-speed packaging application. However, products such as the Arburg host computer system (ALS) as a production management system will also be presented at the fair," says Marc Schuh with regard to the exhibits.

Fully-automatic encapsulation of inserts

The complex production cell will feature a hydraulic Allrounder 370 S with a clamping force of 600 kN and a size 170 injection unit. The system will demonstrate not only the encapsulation of inserts, but also the integration of downstream assembly steps. The Allrounder operates with an Arburg Multilift V robotic system, which enters vertically into the mould and is fully integrated in the Selogica machine control system. A toy buggy made from PP will be produced. In a single injection moulding cycle, the plastic wheels are encapsulated onto two metal axles and the roof and chassis are produced. In this application, the complex gripper of the robotic system inserts the metal axles, removes the sprue and the individual components and subsequently assembles them to produce the finished toy car.

High-speed machine for the packaging sector

On an electric Allrounder 570 A, a high-speed thin-walled application will be demonstrated. The machine has a clamping force of 2,000 kN and a size 800 injection unit, with a maximum shot weight of 434 grams of PS. The moulded part is an egg box for four eggs, weighing 15.6 grams and is produced in a cycle time of 2.3 seconds.

With this application, Arburg will demonstrate the high performance of its electric Allrounder A machines in terms of speed and precision. The main axes, with servo-electric drive as standard, enable simultaneous movements and consequently short cycle times. Depending on requirements, the auxiliary axes can either be driven electrically like the main axes, or hydraulically by means of an integrated small-accumulator hydraulic system. A further advantage of these electric Alldrive machines is their low energy consumption. Accordingly, they all bear the Arburg "e2" energy-efficiency label.

Production management with the Arburg host computer system (ALS)

Ensuring consistently high product quality, optimizing production capacity utilization and minimizing downtimes to enhance the energy efficiency of production processes will become increasingly important in ensuring cost-effective production in the future. For this purpose, ALS provides the ideal control and monitoring instrument between production planning and the production process itself. A further advantage is that not only Arburg injection moulding machines, but also those of other manufacturers can be connected.

Strengthening the market position

Marc Schuh emphasises the importance of the exhibited Allrounders for Arburg's continued strategic focus on the French plastics market: "Complex production cells with integrated production steps for the cost-efficient production of complex moulded parts in particular will determine the future. In the run-up to the trade fair, we have noted an increase in enquiries regarding special automation solutions, especially in the medical technology sector. We are also seeing significant interest in energy-optimised, fast and precise machines. Above all, the electric Alldrive machine series meets the requirement of cycle time reduction, ensuring the cost-effective production of packaging items. With our exhibits, we will demonstrate that Arburg is in a position to master the machine technology for the entire process. A self-imposed goal at the trade fair is therefore to extend and consolidate our market leadership position in the field of electric machines."
ARBURG GmbH + Co KG
Arburg, a German machine construction company, is one of the leading global manufacturers of injection moulding machines for plastics processing with clamping forces between 125 kN and 5,000 kN. Fields of application include the production of plastic parts for motor vehicles, communications and consumer electronics, medical technology, domestic appliances and packaging. The product range is completed by robotic systems, complex projects and other peripherals. Arburg's operations are coordinated by an integrated management system and are DIN EN ISO 9001 and 14001 certified. Arburg is represented by its own organisations in 24 countries at 32 locations and by trading partners in more than 50 countries. However, production takes place exclusively in the parent factory in Lossburg (Germany) - with the mark of quality "made by Arburg - made in Germany". From a total of more than 2,000 Arburg employees, around 1,700 work in Germany. About 330 further employees work in Arburg's organisations around the world.

Further information about Arburg can be found at www.arburg.com

Press releases you might also be interested in
Weitere Informationen zum Thema "Maschinenbau":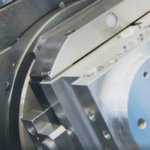 Eine offene Brücke für Big Data
Es klingt ganz ein­fach: In­du­s­trie 4.0 be­nö­t­igt Tech­no­lo­gie 4.0. Doch was ge­nau zeich­net ei­ne mo­der­ne Shop-Floor-Lö­sung aus? Auf wel­che Punk­te müs­sen Un­ter­neh­men ach­ten, wenn sie den Sprung ins IIoT wa­gen wol­len? In­du­s­trie-4.0-Spe­zia­list FOR­CAM stellt in ei­ner Ar­ti­kel­se­rie die wich­tigs­ten Mo­du­le vor.
Weiterlesen