apceth Received Extended Manufacturer's Licence for Somatic Cell Therapeutics At The Ottobrunn Site
Munich/Ottobrunn

, (PresseBox) -
.
- Four new cleanrooms expand capacity to a total of 600 m2.
- Development and production of cell therapy products for own projects as well as for co-operation partners
- apceth European pioneer in the development and manufacture of somatic cell therapeutics

Adult stem cell research at the highest level will be possible at the new apceth site in Ottobrunn near Munich, Germany: in August 2011, the Munich biotech company was granted a manufacturer's licence pursuant to Section 13, German Medicines Act, for the production of somatic cell therapeutics at the new research and production facilities. Together with the already operational site at Munich Großhadern, apceth, the European pioneer in the development and production of innovative cell therapeutics, now has two highly efficient and GMP-compliant building complexes that have cleared the high certification hurdle. "Thanks to the new capacity, we are now in the position to push ahead more quickly with our own development projects and to offer our know-how and our premises to co-operation partners", explained apceth CEO Dr Christine Günther. CSO Prof. Ralf Huss added: "This has enabled us to further close the gap between research and clinical application".

1,800 square metres for research
The apceth site in Ottobrunn covers a total of 1,800 square metres, of which 457 m2 are cleanroom space. Thus, together with the GMP premises in Großhadern, apceth now has a total of 600 m2 cleanroom space at its disposal. This is divided among five separate cleanroom suites (ISO8, ISO7, ISO5). The units are equipped with storage tanks for liquid nitrogen for storing the cell preparations and a total of six incubators for cell expansion. These are monitored around the clock by the company's own Quality Control staff.

The potential of adult stem cell research
The major advantage of adult stem cells is the broad spectrum of their biological properties that reflects the organism's natural healing powers. Furthermore, stem cells are capable of regenerating tissue and supporting wound healing.
Another characteristic of adult stem cells is that they do not trigger a reaction by the immune system. These type of cells are also marked by their ability to regulate the response of the human immune system to modify inflammatory processes. For this reason, adult stem cells are also ideally suited for autologous applications (cells used for the cell treatment stem from the patients themselves) and for allogenic applications (the stem cell donor and the recipient of the cells are different, unrelated people). In both cases, there are no proven immune reactions such as those observed in standard transplantation medicine. Since adult stem cells are also attracted by damaged tissue they are highly relevant for the healing process.
Apceth GmbH und Co. KG
apceth was founded in 2007 as a startup company with funding from a private investor with many years' experience in the pharmaceutical sector. The research work at apceth is centred on the development and clinical application of pioneering stem cell and gene therapies, particularly for the treatment of malignant diseases. apceth combines the principles of stem cell biology with ground-breaking technologies on the basis of both the GMP-compliant production of stem cells and the latest findings in gene technology. apceth's primary aim is to develop novel cell therapy products for the treatment of clinical conditions for which no satisfactory treatment options are available to date. For apceth, this above all means closing the translational gaps between research and clinical application. In October 2010, apceth was one of the first German companies to be granted a manufacturer's licence for somatic cell therapy at the site in Großhadern. apceth started the first phase I/II clinical study on somatic cell therapy for peripheral arterial occlusive disease (pAOD) in March 2011. Together with its academic and industrial partners in the region, apceth is continually expanding its network, both nationally and internationally, in order to develop forward-looking cell therapy products and push ahead with the clinical implementation of ground-breaking therapeutic concepts.


Press releases you might also be interested in
Weitere Informationen zum Thema "Medizintechnik":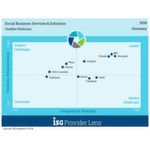 ISG vergleicht Social-Business-Anbieter
Das Be­ra­tungs- und IT-Markt­for­schungs­haus ISG In­for­ma­ti­on Ser­vices Group hat mit dem "ISG Pro­vi­der Lens Ger­ma­ny 2018 – So­cial Bu­si­ness Ser­vices & So­lu­ti­on­s" ei­nen Ver­g­leich der deut­schen So­cial-Bu­si­ness-An­bie­ter ver­öf­f­ent­licht.
Weiterlesen