austriamicrosystems introduces new low noise 650mA DC-DC buck regulators for RF power amplifiers
The AS1332-34 family offers 97% high efficiency, high switching frequency and noise reduction optimized for RF power-amplifiers and similar wireless applications
Unterpremstaetten

, (PresseBox) -
austriamicrosystems (SIX: AMS), a leading global designer and manufacturer of high performance analog ICs for communications, industrial, medical and automotive applications, today launched the AS1332-34 family of step down DC-DC regulators optimized for noise sensitive RF power amplifiers in single cell Li-Ion battery powered applications.

The three devices in the AS1332-34 family deliver up to 650mA from an input voltage range of 2.7 to 5.5V making the devices ideal for single Li-Ion cells. The AS1332 is optimized for low power RF amplifiers where the output power is dynamically scaled by the supply voltage to improve battery lifetime. An external analog reference voltage is applied to the Vcon input, upon which the output voltage follows the reference voltage within a period of 20?s (multiplied by an internal gain of 2.5), varying the output between 1.3 to 3.16V. This fast rise and fall time ensures plenty of operational margin. The output voltage of the AS1333 is fixed at 3.09V whereas the AS1334 is available in 1.2, 1.5, 1.8, 2.5, 3.0 and 3.3V output voltage versions.

The AS1332-34 family is designed for minimal space requirements in size-restricted battery-powered applications and is ideal for mobile phones and other portable wireless end equipment. The 2MHz fixed switching frequency minimizes PCB footprint by allowing the use of tiny, low profile inductors and capacitors. This constant frequency switching, together with internal noise reduction circuitry, results in an output voltage ripple of less than 2mV peakto- peak.

"Power efficiency combined with reduced external component size and cost is the key behind the AS1332-34 buck converter family," said Bruce Ulrich, Marketing Director Standard Linear at austriamicrosystems. "austriamicrosystems' AS1332-34 family is the perfect symbiosis between efficiency and analog performance. Thanks to its small size and fast switching speed only a minimum of PCB space is required. Combined with the unique low noise circuitry this part is first choice for high efficiency RF PA designs."

With 97% peak and 94% average efficiency the new buck converter family boosts battery lifetime in any application. Moreover, if no supply is required, for example in mobile phone in-flight mode, the AS1332-34 offers a shutdown mode requiring only 100nA current combined with an output disconnect feature. Additional features are soft start and power-ok, available on the AS1334. Safety features include current overload and thermal shutdown protection.

The AS1332/33 is available in the tiny WL-CSP 8-bumps while the AS1334 comes in a TDFN(3x3)-10 package covering the industrial temperature range of -40°C to +85°C. For product specific information, to download data sheets or to request free samples from austriamicrosystems' online shop ICdirect, please visit www.austriamicrosystems.com/DC-DC-Converter/AS1332
ams AG
austriamicrosystems is a leading designer and manufacturer of high performance analog ICs, combining more than 27 years of analog design capabilities and system know-how with its own state-of-the-art manufacturing and test facilities. austriamicrosystems leverages its expertise in low power and high accuracy to provide industry-leading customized and standard analog products. Operating worldwide with more than 1,000 employees, austriamicrosystems focuses on the areas of power management, sensing and mobile entertainment in its markets Communications, Industry & Medical and Automotive, complemented by its Full Service Foundry activities. austriamicrosystems is listed on the SIX Swiss Exchange in Zurich (ticker: AMS).

Press releases you might also be interested in
Weitere Informationen zum Thema "Mikrotechnik":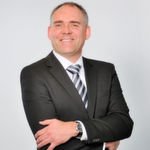 Diese Einsatzszenarien bietet die Blockchain
Die Kryp­to­wäh­rung Bit­coin macht mo­men­tan fast täg­lich Schlag­zei­len. Im Zu­ge des­sen fällt zwangs­läu­fig der Be­griff "Block­chai­n", der oft­mals fäl­sch­li­cher­wei­se als Sy­n­onym ver­wen­det wird. Doch Block­chain ist sehr viel mehr als nur Bit­coin – ei­ne zu­kunft­s­träch­ti­ge Tech­nik, die auch au­ßer­halb von Kryp­to­wäh­run­gen gro­ßes Po­ten­zial hat. Sie kann in den ver­schie­dens­ten Bran­chen im­men­se Vor­tei­le brin­gen – und das liegt an den Ei­gen­schaf­ten der Block­chain-Tech­nik an sich.
Weiterlesen