AMD Introduces Sub-$100 AMD Phenom(TM) II Processor, and AMD Athlon(TM) II Processors, for Mainstream Desktop Computing Market
New AMD Phenom(TM) II processors and AMD Athlon(TM) II processors deliver advanced computing per dollar for multiple desktop product form factors
Sunnyvale, Calif.

, (PresseBox) -
What: AMD (NYSE:AMD) today expanded its AMD Phenom(TM) II and AMD Athlon(TM) II processor families for desktop with several new processors designed to give mainstream consumers advanced performance capabilities from their desktop PCs at increasingly attractive price points. As desktop PCs continue trending toward smaller form factors, AMD remains committed to maximizing the user experience by bringing platform technology integration, efficiency and performance benefits to consumers. Examples of the new processor offerings from AMD include:

- The new AMD Phenom(TM) II X2 555 Black Edition processor, AMD's fastest dualcore desktop processor to date at 3.2 GHz, is an ideal choice for the budgetconscious consumer's Microsoft® Windows® 7 system platform at an affordable $99 Suggested System Builder Price (SSBP).*
- The new AMD Athlon(TM) II X4 635 processor is designed to provide exceptional quadcore performance to handle the demands of multitasking and multithreaded applications.

Why: Continuing its commitment to providing high performance at affordable prices, AMD meets the computing needs of mainstream consumers with these new processors - from gamers to social media devotees. This variety and value enables OEMs and system builders to develop compelling PC solutions optimized for Windows 7.

Who: The new additions to the AMD Phenom(TM) II and AMD Athlon(TM) II processor lines are great choices for consumers interested in HD entertainment,** casual gaming, digital file editing and socialmedia networking.

Benefits: When combined with the latest generation of ATI Radeon(TM) 5800 Series graphics cards and AMD 7series chipsets, these new AMD Phenom II and AMD Athlon II processors can provide consumers with optimal user experience and capabilities such as:

- Brilliant HD entertainment experience**
- Support for DirectX® 11 gaming feature
- Exceptional energy efficiency with dynamic power management
- Socket AM3 compatibility for flexibility and compatibility with motherboards based on the upcoming AMD 800series chipset
- Advanced multitasking performance
- Optimized for Windows 7* and the latest sleek desktop designs

Pricing:

CPU Name/ TDP/ Frequency/ 1ku Price

AMD Athlon(TM) II /X2 255/ 65 W /3.1 GHz /$74
AMD Athlon(TM) II /X3 440/ 95 W/ 3.0 GHz /$84
AMD Athlon(TM) II /X4 635/ 95 W/ 2.9 GHz /$119
AMD Phenom(TM) II /X2 555/ 80 W/ 3.2 GHz /$99
AMD Phenom(TM) II /X4 910e/ 65 W/ 2.6 GHz /$169

Resources:

- More information on AMD Athlon(TM) II processor model numbers and comparisons is available here -
http://www.amd.com/us/products/desktop/processors/athlon-ii-x2/Pages/AMD-athlon-ii-x2-processor-model-numbers-feature-comparison.aspx
- More information on AMD Phenom(TM) II processor model numbers and comparisons is available here -
http://www.amd.com/us/products/desktop/processors/phenom-ii/Pages/phenom-ii-model-number-comparison.aspx
- Follow all news from the AMD Desktop team on Twitter at @AMDDesktop
- Read more from AMD bloggers about AMD at Home [http://blogs.amd.com/home/]
- Check out what they have to say about AMD at Play [http://blogs.amd.com/play/]

* Windows® 7 capable PC configuration required for full Windows® 7 experience. For details see http://www.microsoft.com/windows/windows-7/get/system-requirements.aspx.
** HD capable monitor required.
AMD GmbH
Advanced Micro Devices (NYSE: AMD) is an innovative technology company dedicated to collaborating with customers and technology partners to ignite the next generation of computing and graphics solutions at work, home and play. For more information, visit http://www.amd.com.

AMD, the AMD Arrow logo, ATI, the ATI logo, AMD Athlon, AMD Phenom, Radeon, and combinations thereof are trademarks of Advanced Micro Devices, Inc. Microsoft, Windows, Windows Vista, and DirectX are registered trademarks of Microsoft Corporation in the United States and/or other jurisdictions. Other names are for informational purposes only and may be trademarks of their respective owners.


Press releases you might also be interested in
Weitere Informationen zum Thema "Hardware":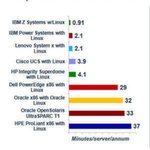 Höchste Zuverlässigkeit bei IBM und Lenovo, schlechteste Werte bei Oracle und HPE
All­jähr­lich be­fragt In­for­ma­ti­on Tech­no­lo­gy In­tel­li­gen­ce Con­sul­ting Corp. (ITIC) 800 Or­ga­ni­sa­tio­nen welt­weit zur Zu­ver­läs­sig­keit ih­rer Ser­ver und Ser­ver-Be­triebs­sys­te­me. Um mög­lichst un­vor­ein­ge­nom­me­ne Er­geb­nis­se zu prä­sen­tie­ren zu kön­nen, ak­zep­tiert das Un­ter­neh­men kein Spon­so­ring von An­bie­tern. Auch im Re­port 2017/2018 lie­gen IBM und Le­no­vo vor­ne – zum zehn­ten Mal hin­te­r­ein­an­der – Or­a­c­le und "HPE Pro­li­an­t" nicht.
Weiterlesen