Alliance Memory Introduces New High-Speed CMOS Double Data Rate (DDR1) Synchronous DRAMs With 64-Mb, 128-Mb, 256-Mb, and 512-Mb Densities in 66-Pin TSOP II Packages
San Carlos, Calif.

, (PresseBox) -
Alliance Memory today introduced a new line of high-speed CMOS double data rate synchronous DRAMs (DDR1 SDRAM) with densities of 64 Mb (AS4C4M16D1), 128 Mb (AS4C8M16D1), 256 Mb (AS4C16M16D1), and 512 Mb (AS4C32M16D1).

The devices released today provide reliable drop-in, pin-for-pin-compatible replacements for a number of similar solutions in medical, communications, industrial, and consumer products requiring high memory bandwidth, and they are particularly well-suited to high-performance PC applications. Internally configured as four banks of 1M, 2M, 4M, or 8M word x 16 bits with a synchronous interface, the DDR1 SDRAMs operate from a single +2.5-V (± 0.2 V) power supply and are lead (Pb)- and halogen-free.

The AS4C4M16D1, AS4C8M16D1, AS4C16M16D1, and AS4C32M16D1 feature a fast clock rate of 200 MHz, a commercial temperature range of 0 °C to 70 °C, and are offered in the 66-pin TSOP II package with a 0.65-mm pin pitch. The DDR1 SDRAMs provide programmable read or write burst lengths of 2, 4, or 8. An auto pre-charge function provides a self-timed row pre-charge initiated at the end of the burst sequence. Easy-to-use refresh functions include auto- or self-refresh while a programmable mode register allows the system to choose the most suitable modes to maximize performance.

Device Specification Table:

Part number / AS4C4M16D1 / AS4C8M16D1 / AS4C16M16D1 / AS4C32M16D1
Density / 64 Mb / 128 Mb / 256 Mb / 512 Mb
Configuration / 4M x 16 bit / 8M x 16 bit / 16M x 16 bit / 32M x 16 bit
Clock rate / 200 MHz / 200 MHz / 200 MHz / 200 MHz
Data rate / 400 Mbps/pin / 400 Mbps/pin / 400 Mbps/pin / 400 Mbps/pin
Package / 66-pin TSOP II / 66-pin TSOP II / 66-pin TSOP II / 66-pin TSOP II

Samples of the new DDR1 SDRAMs are available now, with lead times of eight weeks for production quantities.
Alliance Memory Inc.
Alliance Memory Inc. is a worldwide provider of legacy memory products for the communications, computing, industrial, and consumer markets. The company supports a full range of asynchronous and synchronous SRAMs, low-power SRAMs, ZMD low-power SRAMs, synchronous DRAMs (SDR) and double data rate synchronous DRAMs (DDR SDRAM). Alliance Memory is a privately held company with headquarters in San Carlos, Calif., and regional offices in Germany, France, the United Kingdom, Italy, Sweden, and Asia. More information about Alliance Memory is available online at www.alliancememory.com.

Press releases you might also be interested in
Weitere Informationen zum Thema "Hardware":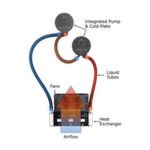 Asetek und Intel kühlen gemeinsam
Ase­tek ar­bei­tet ab so­fort mit In­tel zu­sam­men, um Re­chen­zen­t­ren und Ser­ver mit Was­ser zu küh­len. Dem­nächst soll die Vor­stel­lung ei­nes ers­ten ge­mein­sa­men Pro­duk­tes fol­gen.
Weiterlesen