Professional quality controller available to djay 4 users
Pioneer DDJ-ERGO-V to support djay 4 for Mac by Algoriddim
München

, (PresseBox) -
The Pioneer DDJ-ERGO-V controller now benefits from native plug & play support built into Algoriddim's djay software. This collaboration provides instant pairing of Pioneer's high quality sound and intuitive operability to the popular and ever sophisticated djay 4 forMac OS X Lion.

"We were blown away by the new version of djay and felt it was a perfect fit for the DDJ-ERGO-V," said Jason Pook, Product Development Manager for Pioneer Europe. "djay packs powerful and innovative features such as Harmonic Match(TM) , enhanced audio FX, and a visual key match wheel."

Since its introduction in September 2011, the DDJ-ERGO-V controller has been lauded for its sharp design and portable dimensions. Like djay 4 for Mac, the DDJ-ERGO-V places the same emphasis on the DJing experience - bringing simplicity to both set-up and performance without compromising on features or sound quality. The native integration of the DDJ-ERGO-V with djay enables direct access to all key features via dedicated controls, mirroring djay's graphical user interface. Ensuring a seamless and easy user experience, the unique DDJ-ERGO-V Pulse Control gives a visual representation of pitch, beat and decks in use.

"We are thrilled to pair djay with a controller as sophisticated and fun to use as Pioneer's DDJ-ERGO-V," said Karim Morsy, CEO of Algoriddim. "We have always believed in making djay a tool for all levels of DJs. Supporting the DDJ-ERGO-V allows professionals and enthusiasts alike to enjoy this elegant and simple combination of hardware plus software."

djay 4 has a stunning and efficient visual interface that pros and beginners alike can appreciate for its ease of use while delivering forward-thinking features. Harmonic Match(TM) is a perfect example of djay's seamless integration with the Mac platform and features the iTunes browsing interface built in. djay automatically registers the key of each playing song and matches it to songs of the same key in the iTunes library. For users of djay for iPad or iPhone, djay automatically syncs cue points and other metadata created while using djay over-the-air via Apple's iCloud service to be readily available when performing live.

DDJ-ERGO-V controller is available at a suggested retail price of 499 Euros including VAT.

djay for Mac with DDJ-ERGO-V compatibility, is available today on the Mac App Store for $19.99: http://www.algoriddim.com/store/djay-mac

DDJ-ERGO-V firmware must be updated to the latest version before using with djay for Mac. Download the latest firmware for free: http://pioneer.jp/support/download/dj-e/ddj-ergo-v

djay for Mac instructions and quick start are available at www.pioneerdj.com/support

DDJ-ERGO video can be viewed at http://youtu.be/ce7S9Zf1u6k

Key features of djay 4 for Mac:

- Seamless iTunes integration
- Harmonic Match(TM) (Key detection and matching)
- BPM Sync (Beat detection and matching)
- Visual Waveforms
- High-quality Audio FX
- Sampler
- iCloud Integration
- MIDI Learn
- Support for Multi-Touch Control
- Fully optimized and designed for OS X

About Pioneer Europe

Pioneer Europe NV is the regional European headquarters of the Pioneer Corporation, a global leader in electronics and audio/video products for the home, car, commerce and industry, particularly in the following core multimedia technologies digital versatile disc (DVD), in-car navigation and AV systems. Its shares are traded on the Tokyo Stock Exchange.

For all media enquiries, please contact Pioneer within your country:
www.pioneer.eu/eur/content/company/company/locations.html
algoriddim GmbH
Algoriddim is a Germany-based software company specializing in cutting-edge audio and multimedia applications for Mac, iPad, iPhone, and iPod touch. Its mission is to develop software that is intuitive and user-friendly, yet offers the quality and power of professional level software. With its flagship product djay, winner of the 2011 Apple Design Award for djay for iPad, Algoriddim is now serving a broad international audience of music lovers, professional DJs and world-class musicians. To learn more about Algoriddim, please visit www.algoriddim.com,www.facebook.com/... and twitter.com/algoriddim.


Press releases you might also be interested in
Weitere Informationen zum Thema "Software":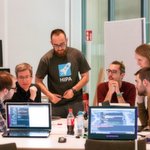 Neue Lösungen für Cloud-Evaluierung und Internetsicherheit
Der hes­sisch-is­rae­li­sche Part­ner­schafts-Ac­ce­le­ra­tor zeig­te An­fang Ja­nuar 2018 neue Pro­duk­t­i­de­en zur Cy­ber­si­cher­heit. Da­zu ge­hö­ren un­ter an­de­rem Lö­sun­gen zur Prüf­bar­keit von Cloud-Ser­vices, für die In­ter­net­si­cher­heit so­wie den Schutz vor Spam und DoS-An­grif­fen.
Weiterlesen