Agilent Technologies' New Family of USB Modular Instruments Provides Flexible, Affordable Solutions for Electronic Functional Test
SANTA CLARA, Calif.

, (PresseBox) -
Agilent Technologies Inc. (NYSE: A) today introduced a family of USB-based instruments designed for flexible configurations, quick setup, and affordability in electronic functional test and troubleshooting applications. The compact Agilent U2700A family includes oscilloscopes, function generator, source/measure unit and switch matrix in a versatile form factor that enables space-saving solutions.

The hallmark of the U2700A family is its standalone/modular operation. Each device can be used as a standalone instrument, or mounted in a compatible chassis with other modules. In modular operations, the chassis enables synchronization of all slotted modules through master/slave triggering capabilities, even across modules with different functions (excluding the switch matrix). Because modules can be easily added for future system expansion, start-up costs are low.

"In today's challenging industrial and education markets, affordable value-added instruments provide a meaningful cost advantage," said Ee Huei-Sin, vice president of Agilent's Basic Instruments Division. "Our family of USB-based modular instruments offers the flexibility to arrange and rearrange configurations to fit changing measurement needs -- easily, quickly and affordably."

The bundled Agilent Modular Instruments Measurement Manager software provides user-friendly out-of-box configuration with its graphical interface and easily accessible functions, providing measurements without programming. Bundled IVI drivers allow users to program with Agilent VEE, C#, C++ and Microsoft(r) Visual Basic, LabVIEW, if they wish.

The Agilent U2700A Series includes five instruments:

- The 100-MHz U2701A and 200-MHz U2702A USB modular oscilloscopes, with sampling rates up to 1 GSa/s, enhance troubleshooting tasks such as circuit-board power-up sequence, in-rush current and frequency measurements.

- The U2761A 20 MHz USB modular function generator, which produces sine, square, triangular, pulse, ramp, exponential, modulated and arbitrary waveforms for electronic functional testing and electronic troubleshooting.

- The three-channel U2722A USB modular source/measure unit, which offers four-quadrant source and measurement capabilities for parametric tests including test point measurement, current and voltage source/measure, and resistance measurement.

- The U2751A USB modular switch matrix, a four-by-eight, two-wire design with 32 channels that provide additional test points for functional tests. Key specifications include crosstalk of less than -30 dB at 45 MHz and insertion loss of just 4.5 dB (with U2922A terminal block).
Agilent Technologies Deutschland GmbH
Agilent is leading the way with design automation tools and flexible instrumentation for early R&D design in components, base-station equipment and mobile devices. Along with its partners, Agilent is working to provide a broad, comprehensive portfolio of solutions that address the entire UE lifecycle - from early development through production test and deployment. Using knowledge gained as a member of the various standards committees, Agilent's design engineers are developing scalable products with best-in-class measurement techniques.

More information about Agilent's 3GPP LTE products is available at www.agilent.com/find/LTE.
Press releases you might also be interested in
Weitere Informationen zum Thema "Hardware":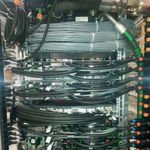 Der Supercomputer QPACE3 ist dem Urknall auf der Spur
Den Su­per­rech­ner "QPACE3" ver­wen­den die Uni­ver­si­tä­ten Re­gens­burg und Wup­per­tal so­wie das Jü­lich Su­per­com­pu­ting Cent­re im Rah­men des Son­der­for­schungs­be­rei­ches SFB/TRR-55 für nu­me­ri­sche Si­mu­la­tio­nen, et­wa in der Quan­ten-Chro­mo­dy­na­mik. Ziel ist es un­ter an­de­rem, den Zu­stand des Uni­ver­sums kurz nach dem Ur­k­nall zu ver­ste­hen. Das Herz­stück ist ein Clus­ter aus "Fu­jit­su Pri­mer­gy"-Ser­vern.
Weiterlesen