Acer Inc. announces extension of tender offer for Gateway, Inc. Allowing the Committee on Foreign Investment in the U.S. to complete its review process
Ahrensburg

, (PresseBox) -
Acer Inc. (TWSE: 2353; LSE: AM50), announced today that it is extending its previously announced tender offer for all outstanding shares of Gateway, Inc. (NYSE: GTW) until 5:00 p.m., New York City time, on Wednesday, October 10, 2007. The tender offer is being extended to allow the Committee on Foreign Investment in the United States to complete its review process under the Exon-Florio Amendment to the Defense Production Act of 1950, as amended. Completion of this review process is a condition to the consummation of the tender offer.

As previously announced, on September 4, 2007, Acer's wholly owned subsidiary, Galaxy Acquisition Corp., commenced a tender offer for all of the outstanding shares of common stock, including the associated preferred stock purchase rights, of Gateway at a purchase price of US$1.90 per share in cash, pursuant to a merger agreement among Acer, Galaxy Acquisition Corp. and Gateway.

As of 12:00 midnight, New York City time, on Monday, October 1, 2007, an aggregate of approximately 307,072,353 shares of Gateway (including 16,778,002 shares tendered under guaranteed delivery procedures), which represents approximately 80.68 percent of Gateway's outstanding common stock on a fully diluted basis, had been tendered into, and not withdrawn from, the tender offer.

Legal Statements
This announcement is for informational purposes only and is not an offer to purchase securities or a solicitation of an offer to sell securities. The solicitation and the offer are being made solely by the Offer to Purchase and the related Letter of Transmittal. The Offer to Purchase dated September 4, 2007, the Letter of Transmittal and related materials may be obtained free of charge by directing such requests to the information agent for the Offer, D.F. King & Co., Inc., 48 Wall Street, New York, New York 10005, or by calling D.F. King & Co., Inc. toll free: (800) 290-6427.

Investors and stockholders of Gateway are urged to read the Tender Offer Statement on Schedule TO, the Offer to Purchase and any other documents relating to the Offer that are filed with the United States Securities and Exchange Commission ("SEC") because they contain important information, including the various terms of, and conditions to, the tender offer. Investors and stockholders of Gateway may obtain these and other documents filed by Acer, Galaxy Acquisition Corp. and Gateway for free from the SEC's web site at http://www.sec.gov.
Acer Computer GmbH
Since its founding in 1976, Acer has constantly pursued the goal of breaking the barriers between people and technology. Focused on marketing its brand-name IT products around the globe, Acer ranks as the world's No. 3 vendor for total PCs and No. 2 for notebooks, with the fastest growth among the top-five players. A profitable and sustainable Channel Business Model is instrumental to Acer's continued growth, while the successful mergers of Gateway and Packard Bell complete the company's global footprint by strengthening its presence in the U.S., and enhancing its strong position in Europe. Acer Inc. employs 5,000 people worldwide. 2007 revenues reached US$14.07 billion. See www.acer.com for more information.

© 2008 Acer Inc. All rights reserved. Acer and the Acer logo are registered trademarks of Acer Inc. Other trademarks, registered trademarks, and/or service marks, indicated or otherwise, are the property of their respective owners.
Press releases you might also be interested in
Weitere Informationen zum Thema "Hardware":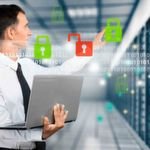 Die fünf wichtigsten Kriterien für ein Next Generation Datacenter
Un­ter­neh­men müs­sen ein­mal mehr neue We­ge fin­den, wie sie Kun­den für sich ge­win­nen. Die Ge­schäfts­ent­wick­lung er­folgt heu­te nicht mehr li­near. Statt­des­sen kön­nen sich Chan­cen je­der­zeit aus al­len Rich­tun­gen auf­tun. Mit ei­nem tra­di­tio­nel­len Re­chen­zen­trum kann die be­nö­t­ig­te Fle­xi­bi­li­tät nicht her­ge­s­tellt wer­den. Ein Mi­kro­re­chen­zen­trum ist der Aus­weg.
Weiterlesen