Release of a Corporate News, transmitted by DGAP - a company of EquityStory AG
The issuer / publisher is solely responsible for the content of this announcement
Planegg-Martinsried

, (PresseBox) -
The Martinsried-based drug discovery and development company 4SC AG (Frankfurt, Prime Standard: VSC) today announced the start of a phase IIa clinical trial to demonstrate the efficacy of the anti-inflammatory drug 4SC-101 for the treatment of patients with Crohn's disease. 4SC AG has been granted the required authorisation by the authorities of the German Federal Institute for Drugs and Medical Devices (BfArM) as well as the positive ethical opinion of the State Medical Council of Baden-Württemberg. Thus, this clinical study is now open for patient recruitment.

The single-arm, open-label exploratory study will be conducted at four study centres in Germany. 24 patients will be given a 35mg oral dose of 4SC-101 once daily over a treatment period of twelve weeks.
The purpose of the study is to provide evidence of the clinical efficacy in patients with Crohn's disease. The preliminary results are expected by the end of 2009.

'We are pleased that following the successful outcome of the already completed phase IIa study in rheumatoid arthritis, we have now also been able to obtain the authorisation for the clinical evaluation of our drug for Crohn's Disease,' comments Dr Ulrich Dauer, CEO of 4SC AG. 'The results that we have obtained from the previous preclinical studies for this indication are already very promising and we predict that with this extended base of indications, our project will be even more attractive in future to potential licensees in the pharmaceutical industry.'

About Crohn's Disease

Crohn's disease is a chronic inflammatory bowel disorder. The onset of the disease is usually insidious and without a clear cause. It is characterised by an inflammatory affliction of part or of the whole of the digestive tract and is currently incurable. About 4 million people worldwide, especially in the Western industrial countries are suffering from the various symptoms such as abdominal pain, intestinal bleeding, diarrhoea or vomiting. People mostly contract the disease between the ages of 20 and 40.
Crohn's disease leads to a considerable reduction in quality of life but may also involve severe complications requiring immediate surgery. Current therapeutic options for patients with Crohn's disease are largely limited to the use of anti-inflammatory steroids applied either systemically or locally for the treatment of the symptoms.

About 4SC-101

4SC-101 is a novel small-molecular active agent of the class of disease-modifying drugs known as DMARDs (disease-modifying antirheumatic drugs) for the treatment of auto-immune disorders. The substance acts as a highly selective inhibitor of the biosynthesis of pyrimidines and in this way inhibits the proliferation of rapidly multiplying cells, in particular that of the lymphocytes which are of importance for the immune response.
The drug candidate comes from 4SC's own research pipeline and has already been successfully tested in a phase IIa clinical study on patients with rheumatoid arthritis. In addition, the broad therapeutic potential of 4SC-101 has been further substantiated in several preclinical studies on chronic inflammatory bowel diseases and inflammatory skin conditions.
4SC AG
4SC AG (ISIN DE0005753818) has been listed in the Prime Standard of Frankfurt Stock Exchange since 15 December 2005. Founded in 1997 and now with a staff of 83 employees, the company develops novel drug candidates against inflammatory diseases and cancer. 4SC AG utilises its patent protected platform, to create a sustainable project pipeline of drug candidates, which are to be developed up to clinical efficacy in early clinical phases ('proof of concept') and subsequently partnered with the pharmaceutical industry in return for advance and milestone payments as well as royalties. There are currently eight projects in the development pipeline and a rich pool of further discovery projects. Clinical phase IIa for the first project for the treatment of rheumatoid arthritis has already successfully been completed. The project is now being prepared for clinical phase II trials. An additional project for the treatment of various cancers has completed a clinical phase I trial and will commence clinical phase II testing shortly. Further projects are in advanced pre-clinical stages.

Further information is to be found at www.4sc.com.

Press releases you might also be interested in
Weitere Informationen zum Thema "Medizintechnik":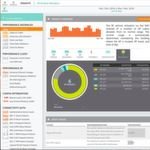 Analytics- und Assurance-Tool auf KI-Basis
Das HPE-Un­ter­neh­men Aru­ba er­wei­tert mit Ne­tIn­sight sei­ne Mo­bi­le-First-Ar­chi­tek­tur um Ana­lytics- und As­suran­ce-Funk­tio­nen. Die Lö­sung sei mit Hil­fe von künst­li­cher In­tel­li­genz (KI) und ma­schi­nel­lem Ler­nen in der La­ge, die Netz­werk­per­for­man­ce zu opti­mie­ren.
Weiterlesen