Vergleichs- und Berechnungstool für alle SAP HCM Daten - Centric Tool VBT2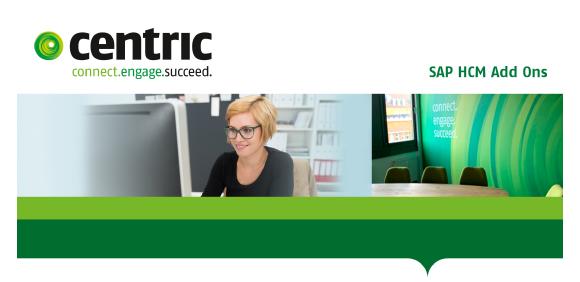 Liebe Kunden, Partner und Interessenten,
mit VBT2 sind Sie in der Lage, aussagekräftige Berichte für das Personalcontrolling aus allen verfügbaren SAP® HCM Daten verschiedenster Herkunft zu erstellen. Während sonst mittels Query, LOA-Reporter, Excel und/oder entsprechender S-Verweise die für den Bericht erforderlichen SAP® HCM Daten ausgewertet und zusammengestellt werden müssen, ist dies mit VBT2 aus nur einem integrierten Tool heraus möglich. Es können sogar Berechnungen aus Stamm- und Zeitwirtschaftsdaten sowie Abrechnungsergebnisse durchgeführt werden.
Wichtige Kennzahlen auf einen Blick:
Einfach analysieren, effizient visualisieren: Mit dem All-in-One-Reporting Tool VBT2 erstellen Sie im Handumdrehen tagesaktuelle Auswertungen – und das ohne Programmierung oder großen Schulungsaufwand.
Die wesentlichen Vorzüge des VBT2 Tools sind:
Einfache Bonus/Beteiligungs-Berechnung und Simulation (Compensation & Benefits)
Effektiv-Verdienstberichte mit aktuellen Gehältern und Abrechnungsergebnissen aus der Vergangenheit
Abweichungsanalyse von Vorperiodendaten zu Revisionszwecken und Änderungen zahlungsrelevanter Stammdaten
Rückstellungsberechnungen mit kombinierten Daten aus Infotypen (aktuelle Gehälter), Lohnarten- und Zeitwirtschaftsergebnissen, wie z.B. Resturlaub oder SAP-Tabellen, Fiktivberechnungen bei Entgeltanpassungen (Gehaltserhöhungen) für Simulation und Kostenanalyse.
Möglichkeit der Erstellung verschiedener Varianten und Vorgaben, z.B. Budgetvorgaben
Erzeugte bzw. gerechnete Ergebnisse können aufgrund einer Vollintegration entweder über das Centric INF-Tool oder BTC-Tool automatisch in die jeweiligen Infotypen eingespielt werden
Erstellung von Statistiken, wie beispielsweise die Statistik zum Personalstand
Lernen Sie das Centric VBT2 Tool und seine Funktionen kennen, um Auswertungen und Berichte aus SAP HCM einfach und schnell zu erstellen. Und überzeugen Sie sich live von den Vorzügen von VBT2.
Merken Sie sich den Termin schon einmal vor oder besser, melden Sie sich doch direkt an unter:
https://attendee.gotowebinar.com/register/2738756338181801484
The publisher indicated in each case is solely responsible for the press releases above, the event or job offer displayed, and the image and sound material used (see company info when clicking on image/message title or company info right column). As a rule, the publisher is also the author of the press releases and the attached image, sound and information material.
The use of information published here for personal information and editorial processing is generally free of charge. Please clarify any copyright issues with the stated publisher before further use. In the event of publication, please send a specimen copy to
service@pressebox.de
.