Train the Trainer: Spezialseminar für BKF-Ausbilder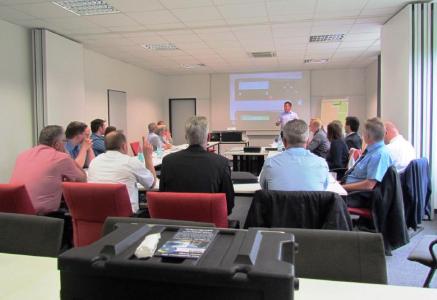 §§§
Ausbilder, die Unterricht zur beschleunigten Grundqualifikation oder zur Weiterbildung durchführen, haben ihre Kenntnisse regelmäßig durch eine mindestens dreitägige Fortbildung aufzufrischen. Die Fortbildung soll alle Gebiete erfassen, die für diese berufliche Tätigkeit des Ausbilders von Bedeutung sind. Die Fortbildung hat einen Gesamtumfang von mindestens 24 Unterrichtseinheiten zu je 60 Minuten und ist spätestens alle vier Jahre zu absolvieren.
§§§
Das Spezialseminar mit einmalig hohem Praxisanteil bringt Ihnen Rechtssicherheit für Ihre Schulungen. Denn nur bei uns haben Sie die Möglichkeit, an über 100 Fahrtenschreibern sämtlicher Hersteller, Generation und Versionen alles zu testen und zu üben. Mit über 800 Fahrtenschreiber-Trainingskarten wird eine intensive Praxisschulung durchgeführt. Hierfür stehen weitere Trainer zur Unterstützung der Teilnehmer zur Verfügung!
>> Detaillierte Informationen und Anmeldemöglichkeit
The publisher indicated in each case is solely responsible for the press releases above, the event or job offer displayed, and the image and sound material used (see company info when clicking on image/message title or company info right column). As a rule, the publisher is also the author of the press releases and the attached image, sound and information material.
The use of information published here for personal information and editorial processing is generally free of charge. Please clarify any copyright issues with the stated publisher before further use. In the event of publication, please send a specimen copy to
service@pressebox.de
.