SCHNELLE UND INTELLIGENTE STORAGE UMGEBUNGSLÖSUNG FÜR KMU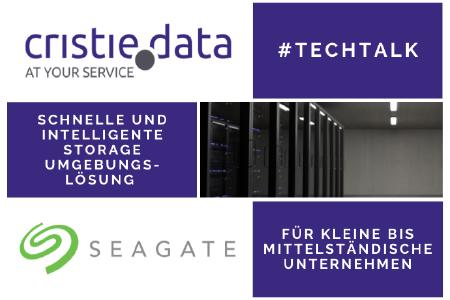 Beschleunigen Sie die Digitalisierung Ihres Unternehmens
Kapazität oder Leistung? Warum nicht beides! Lösungen von Cristie und seinen Partnern vereinen Speicherplatz mit kognitivem Datenmanagement: Enterprise-Grade zu einem wettbewerbsfähigen Preis. Erfahren Sie im Webinar mehr darüber.

Schützen Sie die Daten Ihres Unternehmens
Cristie und seine Partner sorgen dafür, dass Ihr Unternehmen immer und überall auf seine Daten zugreifen kann. Cristie kombiniert kostengünstige, skalierbare Speichersysteme von Seagate u. a. mit den Backup- und Recovery-Produkten von Rubrik. Im Webinar stellen wir die Lösungen vor.

Erweitern Sie einfach Ihre Infrastruktur
Mit den Expansion Shelves und JBOD-Systemen von Seagate erweitern Sie Ihre vorhandenen Kapazitäten. Cristie sorgt mit seinen Software-Defined Datenmanagementlösungen dafür, dass sich die neuen Systeme nahtlos in Ihre vorhandene Landschaft fügen, oder migriert Ihre Daten im laufenden Betrieb auf eine neue Plattform. Bringen Sie wichtige Daten durch eine moderne, kostenoptimierte Architektur blitzschnell zu den Anwendungen. Wie? Das zeigen wir Ihnen im Webinar.

Managed und Cloud-Services für KMU
Lösungen von Cristie und seinen Partnern automatisieren das Datenmanagement. Unsere Rechenzentren sind besonders sicher und versorgen sich selbst mit erneuerbaren Energien. KMU profitieren besonders von einer sofortigen Wiederherstellung der Daten, auch im Falle eines Ransomware-Angriffs. Lernen Sie im Webinar, wie Sie die Betriebskosten senken können und Ihre Daten vor Ransomware schützen.
The publisher indicated in each case is solely responsible for the press releases above, the event or job offer displayed, and the image and sound material used (see company info when clicking on image/message title or company info right column). As a rule, the publisher is also the author of the press releases and the attached image, sound and information material.
The use of information published here for personal information and editorial processing is generally free of charge. Please clarify any copyright issues with the stated publisher before further use. In the event of publication, please send a specimen copy to
service@pressebox.de
.