SAFe® Product Owner/Product Manager (CSPMPO)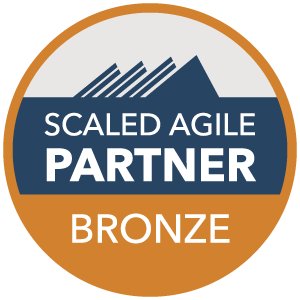 mit Almudena Rodriguez Pardo (Scaled Agile Framework Program Consultant)
18. 10. 2021, 9.00–17.00 Uhr
Wien
Downloads
 Seminarübersicht (199 kb)
Wertschöpfung durch effektive Program Increment (PI) mit SAFe® Product Owner/Product Manager Zertifizierung basierend auf Version 5.1 von SAFe.
Entwickeln Sie die Fähigkeiten, die Sie benötigen, um die Wertschöpfung in einem Lean-Unternehmen zu steuern und lernen Sie die Aktivitäten, Tools und Mechaniken kennen, die zur Verwaltung von Backlogs und Programmen verwendet werden, indem Sie SAFe® Product Owner/Product Manager (POPM) werden.
Während dieses zweitägigen Kurses erhalten die Teilnehmenden ein tiefes Verständnis für den Agile Release Train (ART), wie er einen Mehrwert liefert und was sie tun können, um ihre Rolle effektiv zu erfüllen. Sie werden auch lernen, wie man Lean Thinking anwendet, um Epics zu schreiben, sie in Features und Stories aufzuschlüsseln, Iterationen zu planen und auszuführen und Programm-Inkremente zu planen. Schließlich erfahren die Teilnehmer mehr über die Continuous Delivery Pipeline und die DevOps-Kultur, wie man sich als Product Owner und Product Manager effektiv integrieren kann und was es braucht, um die ART kontinuierlich zu verbessern.
Lernziele
Um die Rolle des SAFe Product Owner/Product Manager vollends auszufüllen, sollten die Teilnehmenden in der Lage sein:
SAFe in einem Lean Unternehmen anzuwenden
Die Prinzipien und Werte von SAFe Lean-Agile mit der Rolle des PO/PM zu verbinden
Zusammen mit dem Lean-Portfoliomanagement zu arbeiten
Kontinuierliche Erkundung des Wertes der Produkt-Inkrement Planung
Ausführen des Produkt-Inkrements und Bereitstellung eines kontinuierlichen Wertstrom
Die Rolle das Product Owners und des Product Managers zu erfassen
Erstellen eines Role-Action-Plans
Voraussetzungen:
Erfahrung und Wissen in agiler Methodik wird vorausgesetzt, vor allem in Bezug auf Scrum – vorherige Arbeitserfahrung mit Scrum und /oder eine CSM/PSM I Zertifizierung ist von Nutzen, um den Kursthemen folgen zu können.
Zertifikat: 
SAFe® 5.1 Product Owner/Product Manager
The publisher indicated in each case is solely responsible for the press releases above, the event or job offer displayed, and the image and sound material used (see company info when clicking on image/message title or company info right column). As a rule, the publisher is also the author of the press releases and the attached image, sound and information material.
The use of information published here for personal information and editorial processing is generally free of charge. Please clarify any copyright issues with the stated publisher before further use. In the event of publication, please send a specimen copy to
service@pressebox.de
.