Rechtssicherheit für Unternehmer, Verkehrsleiter und Disponenten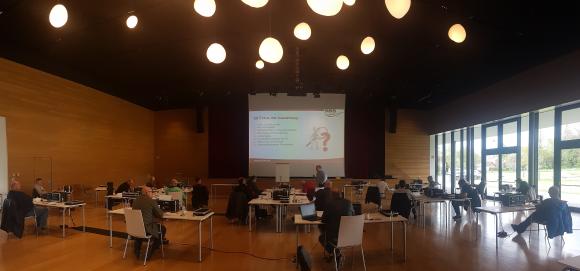 Neue (Sozial-) Vorschriften | neuer Smart Tachograph

- Pflichten, Risiken und Lösungen für Fuhrparkbetreiber im Güter- oder Personenverkehr –
Seit dem 20.08.2020 gelten bereits die ersten neuen Vorschriften, andere treten sukzessive in Kraft. Für Verkehrsunternehmen ist es daher elementar, sich mit den neuen Vorschriften zu befassen, um Bußgelder zu vermeiden. Welche Vorschriften im Detail geändert wurden und welche
Besonderheiten bei der Auslegung
dieser neuen Bestimmungen zu beachten sind, erfahren interessierte Unternehmen in den Seminaren von SBS Fleet-Competence. Die Seminare wurden speziell für Unternehmer, Verkehrsleiter und Disponenten entwickelt und werden in ganz Deutschland durchgeführt. Dozent und Inhaber von
SBS Fleet-Competence, Olaf Horwarth
, ist offizielles Mitglied im EU-Tachographenforum und in weiteren Arbeitsgruppen der EU-Kommission. Hier hält er regelmäßig Vorträge während den Sitzungen. Er ist gefragter Experte für sämtliche Praxisfragen rund um die digitalen Fahrtenschreiber. Olaf Horwarth ist Autor des Fachbuches "Digitale Kontrollgeräte von A-Z" und zudem häufig als Sachverständiger vor Gericht im Einsatz. 
In den speziellen
Praxisseminaren für Fuhrparkbetreiber 
werden daher auch sämtliche auf dem Markt befindliche digitale Fahrtenschreiber umfassend behandelt. Hierzu stehen im Seminar bis zu 100 Trainingsgeräte inklusive Trainingskarten zur Verfügung. So entsteht eine einmalige Mischung aus Theorie und Praxis. Alle Fragen können an den Geräten demonstriert, Einstellungen getestet und ggf. Mythen widerlegt werden. Elementar ist die erheblich verkürzte Frist zur Umrüstung auf den neuen Smart Tacho Version 2.
Nicht vergessen: 
Verstöße gegen die Tachographenverordnung 165/2014, sind in der EU-Verordnung 403/2016 als "sehr schwere Verstöße" bewertet – Punkt 8: mangelhafte oder fehlende Schulung und Anweisung. Punkt 17: fehlender Nachtrag. Drei
"sehr schwere Verstöße" 
pro Fahrer pro Jahr (im Durchschnitt) werden zu einem
"schwersten Verstoß" 
und können somit zum Entzug der Genehmigung führen. Nach einer Statistik des BAG (Bundesamt für Güterverkehr) sind knapp
75 % aller Verstöße auf das Fahrpersonalrech
t und davon wiederum ca.
70 % auf Fehler bei der Bedienung 
der Kontrollgeräte und bei 
den Nachweispflichten 
zurückzuführen!
Ein weiteres wichtiges Thema in den Spezialseminaren ist der Fallstrick
"ausländische Fahrerlaubnisse"
: Das Risiko für den Halter und Unternehmer ist immens und kann zum Entzug der
Genehmigung führen. 
Hervorzuheben ist, dass sämtliche Aussagen im Seminar durch Rechtsgrundlagen belegt, Mythen auf gleiche Weise widerlegt werden. Vermeiden Sie Bußgelder durch fundierte Kenntnisse statt Mythen!
Alle Termine finden Sie hier!
The publisher indicated in each case is solely responsible for the press releases above, the event or job offer displayed, and the image and sound material used (see company info when clicking on image/message title or company info right column). As a rule, the publisher is also the author of the press releases and the attached image, sound and information material.
The use of information published here for personal information and editorial processing is generally free of charge. Please clarify any copyright issues with the stated publisher before further use. In the event of publication, please send a specimen copy to
service@pressebox.de
.