QM Monitor Gesundheitswesen 4.0: Auswertung der Forschungsstudie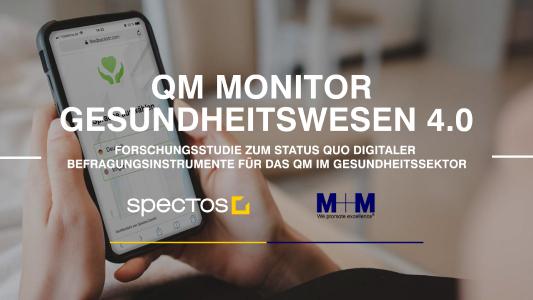 Wie ist der Status Quo zu Einsatz und Zielsetzung von Zufriedenheitsbefragungen für Patienten, einweisende Ärzte und Mitarbeiter im deutschsprachigen Raum?
Wie ist ist das grundsätzliche Stimmungsbild zum Thema Digitalisierung in Kliniken und Reha-Einrichtungen? Welche Rolle spielen digitale Lösungen sowohl bei der Durchführung von Patienten-, Mitarbeiter- und Einweiserbefragungen als auch bei der Maßnahmenableitung?

Diese Fragestellungen waren Fokus des QM Monitor Gesundheitswesen 4.0, gerichtet an Qualitätsbeauftragten und Entscheidungsträger im Bereich Organisationsentwicklung, Personalentwicklung, Qualitäts- und Risikomanagement aus dem Gesundheits- und Rehabereich der gesamten DACH-Region.

Die Auswertung des QM Monitor Gesundheitswesen 4.0 wird in der online Veranstaltung am 30.09.2021 im Detail präsentiert. Teilnehmern der Umfrage sowie Interessierten werden die Ergebnisse nach der der Veröffentlichung kostenfrei zur Verfügung gestellt. Eine Registrierung ist dafür erforderlich.
The publisher indicated in each case is solely responsible for the press releases above, the event or job offer displayed, and the image and sound material used (see company info when clicking on image/message title or company info right column). As a rule, the publisher is also the author of the press releases and the attached image, sound and information material.
The use of information published here for personal information and editorial processing is generally free of charge. Please clarify any copyright issues with the stated publisher before further use. In the event of publication, please send a specimen copy to
service@pressebox.de
.