Online-GAEB-VOB-Schnupperkurs 10.12.2021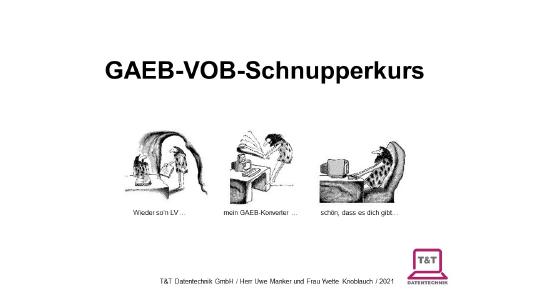 Seit Oktober 2018 ist die elektronische Vergabe (eVergabe) zur Pflicht geworden.
Bei einem dreistündigen Online-GAEB-VOB-Schnupperkurs erfahren Sie praxisnah und verständlich, worum es bei dem neuen Vergaberecht geht:
- 1,0 Stunde neues VOB-Vergaberecht/eVergabe (Referent Herr Rechtsanwalt Uwe Manker),
- 1,5 Stunden GAEB-Grundlagen,
- 0,5 Stunden Informationen zu den Programmen "GAEB-Konverter" und "GAEB-Vergleich".

Der nächste Kurs findet am Freitag, dem 10.12.2021 um 09:00 Uhr statt.

Sie benötigen lediglich:
- einen PC/Notebook mit Internetanschluss sowie
- PC-Lautsprecher mit Mikrofon oder Telefon/Handy.

Kosten pro Person: 80,00 Euro netto

Für eine Anmeldung nutzen Sie einfach das nachfolgende Anmeldeformular:
https://download.gaeb-tools.de/2021-Anmeldung%20Online-Schulung.pdf

Weitere Termine finden Sie auf unserer Homepage www.gaeb-tools.de/schulung/.

Wir freuen uns auf Ihre Teilnahme!
The publisher indicated in each case is solely responsible for the press releases above, the event or job offer displayed, and the image and sound material used (see company info when clicking on image/message title or company info right column). As a rule, the publisher is also the author of the press releases and the attached image, sound and information material.
The use of information published here for personal information and editorial processing is generally free of charge. Please clarify any copyright issues with the stated publisher before further use. In the event of publication, please send a specimen copy to
service@pressebox.de
.