Neu in Führung - Modul I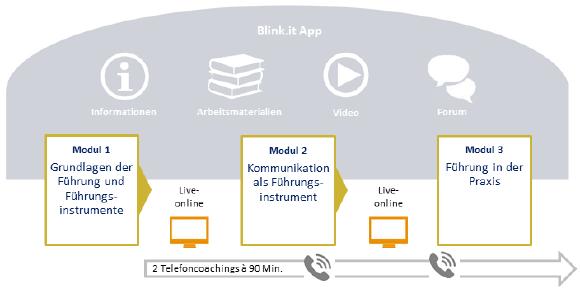 Zum ersten Mal übernehmen Sie Verantwortung für ein kleines Team. Was genau heißt es, Mitarbeiter zu führen? Und welche Kompetenzen brauchen Sie, um erfolgreich in Ihrer neuen Rolle agieren zu können? Unser Seminar "Neu in Führung" stellt den perfekten Einstieg dar, Ihre Führungskompetenzen zu entwickeln.

Mit einer Mischung aus Grundlagentraining, Praxisübungen, persönlicher Fallbearbeitung und Gruppencoaching unterstützen wir Sie bei Ihrem individuellen Entwicklungsprozess. Mit drei Präsenzeinheiten, zwei Online-Sessions und Telefoncoachings werden Sie bestens auf Ihre Führungsaufgabe vorbereitet.

Ihr Nutzen

Sie gewinnen Klarheit über Ihre "neue" Rolle, erhalten individuelles Feedback zu Ihrer Wirkung als Führungskraft und gewinnen Sicherheit in Ihrer neuen Funktion.

In drei Präsenzseminaren bauen Sie Ihr Wissen über praxistaugliche Führungsinstrumente und bewährte Handlungsempfehlungen aus.

Zwischen den Modulen bieten wir Ihnen zwei neunzigminütige Online-Sessions an, in denen Sie kleine Transferaufgaben bearbeiten und Erfahrungen aus ihrem Führungsalltag diskutieren.

Während des gesamten Programms versorgt Sie die Learning App Blink.it mit Informationen und zusätzlichen Lernimpulsen.

Zusätzlich erhalten alle Teilnehmer ein Telefoncoaching-Kontingent zur Bearbeitung individueller Fragestellungen.
The publisher indicated in each case is solely responsible for the press releases above, the event or job offer displayed, and the image and sound material used (see company info when clicking on image/message title or company info right column). As a rule, the publisher is also the author of the press releases and the attached image, sound and information material.
The use of information published here for personal information and editorial processing is generally free of charge. Please clarify any copyright issues with the stated publisher before further use. In the event of publication, please send a specimen copy to
service@pressebox.de
.