Mikroprozessorgesteuertes Orion3 Kniegelenk und Linx Prothesensystem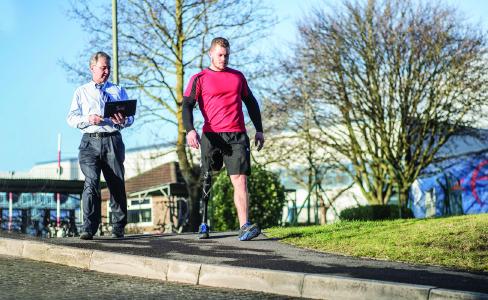 Referent: Adam Baier, Blatchford Europe GmbH
Zusammenfassung:
Das mikroprozessorgesteuerte Orion3 Kniegelenk eignet sich für Anwender der Mobilitätsklassen 2 bis 4, die von der Sicherheit und Stabilität auf unterschiedlichen Untergründen, Schrägen und Treppen profitieren. Linx ist das weltweit erste vollständig vernetzte Prothesensystem, bei dem sowohl das elektronische Fußmodul als auch das elektronische Kniegelenk spezifische Daten zur Bewegung, Aktivität, Umgebung und zum Terrain erfassen und austauschen. Die beiden Module bilden dabei eine Einheit und geben Informationen koordiniert an das mikroprozessorgesteuerte Unterstützungssystem weiter. Die Orion3 und Linx Funktionen ermöglichen zusätzliche Einstellungsmöglichkeiten, die für noch mehr Mobilität, Freiheit und Lebensqualität sorgen. Die richtige Handhabung der Software-Updates, kombiniert mit einzigartiger biomimetischer Knöchelgelenkshydraulik, ermöglichen Anwendern außergewöhnlich natürliche Bewegungsabläufe und einzigartigen Gehkomfort.
Abspielen 
The publisher indicated in each case is solely responsible for the press releases above, the event or job offer displayed, and the image and sound material used (see company info when clicking on image/message title or company info right column). As a rule, the publisher is also the author of the press releases and the attached image, sound and information material.
The use of information published here for personal information and editorial processing is generally free of charge. Please clarify any copyright issues with the stated publisher before further use. In the event of publication, please send a specimen copy to
service@pressebox.de
.