Live Webinar: Die vergessenen Mächtigen – wie Sie Ihre Frontline Worker erreichen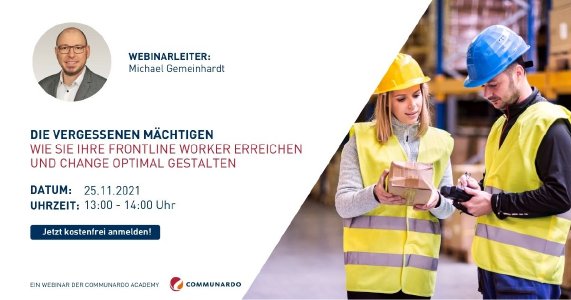 25.11.2021 Kostenfreies Live Webinar: Die vergessenen Mächtigen – wie Sie Ihre Frontline Worker erreichen und den Change optimal gestalten.
Durch die Folgen der Pandemie und dem neuen Arbeiten können gerade Information Worker flexibler und ortsunabhängiger arbeiten. Die Arbeitswelten haben sich für diese Zielgruppe fundamental verändert – hier wurde viel investiert. Doch wie steht es mit der Arbeitswelt bei Frontline Workern? Laut einer Studie von McKinsey fühlen sich 
75% der Frontline Worker 
bei Änderungen der Unternehmenspolitik abgehängt. 
84% erhalten nicht genügend Informationen
 vom Management. Diese Zahlen sind alarmierend. Zudem sind die Arbeitsplätze von Frontline Workern veraltet, selten vernetzt und mobil nicht nutzbar. Nur 
13 % der Frontline Worker
 fühlen sich bei der Arbeit engagiert. 
Für Unternehmen wird es demnach immer erfolgskritischer jene Zielgruppen in den Mittelpunkt der Gestaltung moderner Arbeitswelten zu stellen. Folgende Fragestellungen ergeben sich: Wie binde ich Kolleg:Innen stärker ein, wie gelangen wichtige Informationen schnell an Alle, wie kommen Erfahrungen und Kundenfeedback zurück in die Organisation und nicht zuletzt, wie können wir Arbeitsabläufe leichter gestalten, um Frontline Work zu unterstützen und zu motivieren? 
Diese und viele weitere Fragen klärt Organisationspsychologe und Communardo Business Consultant 
Michael Gemeinhardt
 in unserem Webinar.  Erfahren Sie, wie Sie Ihre Frontline Worker besser integrieren und warum das jetzt für Ihr Unternehmen essenziell ist. 
Melden Sie sich noch heute zum kostenlosen Webinar an und sichern Sie sich Ihren Platz in unserer virtuellen Runde!
Profitieren Sie von unserer langjährigen Erfahrung und stellen Sie am Ende des Webinars live
Ihre Fragen
.
>> Jetzt kostenfrei anmelden!
Die Schwerpunkte des Webinars:
spannende Einblicke und praktische Erfahrungen aus unseren Kundenprojekten
Herausforderungen und Anforderungen bei der Integration von Frontline Workern in Change Projekte
Lösungen und Best Practices: Wie binde ich Frontline Worker erfolgreich in Change Projekte ein?
Für wen ist das Webinar interessant?
Human Resources
Unternehmenskommunikation
Change & Modern Work Projektleiter
IT
Ihre Teilnahme:
Die Präsentation der Inhalte erfolgt online live über das Webkonferenz-Programm
GoToWebinar
.
The publisher indicated in each case is solely responsible for the press releases above, the event or job offer displayed, and the image and sound material used (see company info when clicking on image/message title or company info right column). As a rule, the publisher is also the author of the press releases and the attached image, sound and information material.
The use of information published here for personal information and editorial processing is generally free of charge. Please clarify any copyright issues with the stated publisher before further use. In the event of publication, please send a specimen copy to
service@pressebox.de
.