Lieferketten absichern – damit Sie auch in Zukunft sichere Geschäfte tätigen können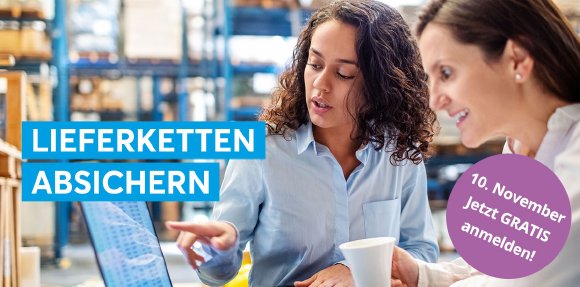 Planungssicherheit und Liquidität sicherstellen
Lieferanten gewähren ihren Kunden durch die Einräumung von Zahlungszielen jährlich Kredite in Milliardenhöhe. Jedoch werden viele dieser Forderungen erst spät oder überhaupt nicht beglichen und gefährden damit die Liquidität von Unternehmen.
Unsere Branchenexperten zeigen Ihnen, mit welchen Maßnahmen Sie Ihre Lieferketten absichern* und Zahlungsausfällen aktiv entgegenwirken können. Zudem zeichnen Sie ein Bild der aktuellen Situation nach zwei Jahren Corona und geben Ihnen einen Einblick in die Trends der Digitalisierung und Auswirkungen der Plattformökonomie auf die Lieferketten.
Programm
Ist eine Forderungsausfallversicherung nur etwas für große Unternehmen? Trends der Digitalisierung und Plattformökonomie.
Thomas Richter, Mitglied der Geschäftsleitung, Verband der Vereine Creditreform e. V.
Die WKV der R+V – Deckungskonzepte in bewegten Zeiten – Fokus Großhandel und Logistik
Florian Heiligers, Verbundgruppenmanager, R+V Allgemeine Versicherung AG
Kreditversicherungslösungen für die Branchen Großhandel, Spedition und Logistik
Dirk Schumacher, Manager Vertriebskooperationen und Prokurist, Atradius Kreditversicherung, Niederlassung der Atradius Crédito y Caución

Details zum Event
Online Kunden-Event wird als WebEx-Event angeboten. Sie erhalten in einer gesonderten Mail die Zugangsdaten zum Online-Event zugesendet. Sie haben die Möglichkeit, sich 15 Minuten vor dem Event einzuwählen. Sie müssen kein XING Konto haben, um sich zu dem Event anzumelden. Xing wird von uns nur als Registrierungsplattform genutzt.
Fragen zum Thema können Sie bereits im Vorfeld per Mail an 
Christian Kramer
 oder 
Erika Gofman
 senden.
Mit der Anmeldung erlauben Sie Creditreform sowie den Referent/innen / Partnern, die angegebenen Informationen zur Kontaktaufnahme mit Ihnen zu nutzen.
_______________________________________________________
*Versicherungsvermittlerregister gemäß § 11a Gewerbeordnung: Die Erlaubnis als Versicherungsvertreter mit Erlaubnisbefreiung nach § 34d Abs. 6 GewO (produktakzessorisch) wurde erteilt durch die zuständige Aufsichtsbehörde, die Industrie- und Handelskammer Mittlerer Niederrhein, Nordwall 39, 47798 Krefeld, an Verband der Vereine Creditreform e.V. unter der Registrierungs-Nr. D-Z42F-0FY1G-19. Die Registrierungs-Nr. wird geführt bei dem Deutschen Industrie- u. Handelskammertag, Breite Straße 29, 10187 Berlin.
Um Ihnen die passende Kreditversicherung anbieten zu können, unterhält Creditreform mit verschiedenen führenden Kreditversicherungen Kooperationen. Die Erbringung der Versicherungsleistung erfolgt durch die Kreditversicherungsgesellschaft und nicht durch Creditreform selbst.
The publisher indicated in each case is solely responsible for the press releases above, the event or job offer displayed, and the image and sound material used (see company info when clicking on image/message title or company info right column). As a rule, the publisher is also the author of the press releases and the attached image, sound and information material.
The use of information published here for personal information and editorial processing is generally free of charge. Please clarify any copyright issues with the stated publisher before further use. In the event of publication, please send a specimen copy to
service@pressebox.de
.