Kostenstellen in edrewe TEIL 2 - Auswertung plus Chefinfo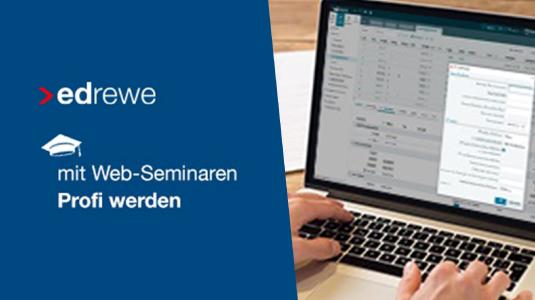 Richtig erfasste Kostenstellen in edrewe liefern differenzierte Informationen auf einen Blick.

In edrewe stehen Ihnen verschiedene Auswertungen zur Verfügung. Damit ist eine schnelle Reaktion auf Veränderungen im Bereich von Kosten und Erlösen möglich, unternehmerische Entscheidungen können fundierter vorbereitet werden. Im Web-Seminar geht Karl-Heinz Gebele, Systemberater edrewe, auf folgende Punkte ein:

 

• Wie werden Kostenstellen ausgewertet?

• Welche Auswertungen stehen zur Verfügung?

• Was bietet die Chefinfo?

 

Fragen können während des Web-Seminars per Chat gestellt werden. Sie werden im Anschluss von der edrewe Systemberatung beantwortet.
The publisher indicated in each case is solely responsible for the press releases above, the event or job offer displayed, and the image and sound material used (see company info when clicking on image/message title or company info right column). As a rule, the publisher is also the author of the press releases and the attached image, sound and information material.
The use of information published here for personal information and editorial processing is generally free of charge. Please clarify any copyright issues with the stated publisher before further use. In the event of publication, please send a specimen copy to
service@pressebox.de
.