Karrieretag Familienunternehmen bei GOLDBECK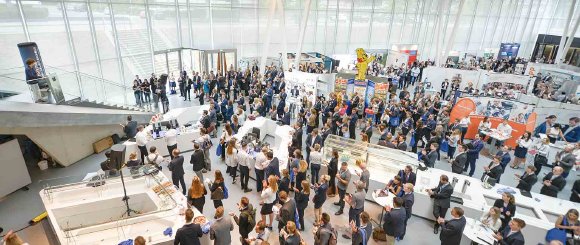 Der Karrieretag Familienunternehmen ist die europaweit erste und einzige Recruiting- und Kontaktmesse speziell für Karrieren in Familienunternehmen und beim "Hidden Champion".
Unter der Schirmherrschaft des Bundesministeriums für Wirtschaft und Energie treffen vorausgewählte Fach- und Führungskräfte auf die Inhaber und Top-Entscheider von führenden Familienunternehmen aus ganz Deutschland. Bekannte Familienunternehmen wie Bahlsen, Haribo oder Schüco gehen hier ebenso auf die Suche nach Führungsnachwuchs wie "Hidden Champions" und Weltmarktführer wie Vaillant, WAGO oder VEKA. In einem sehr persönlichen Rahmen können im verbindlichen Gespräch mit den Firmenvertretern individuelle Karrierepfade entwickelt werden. Gegenüber anonymen Publikumsgesellschaften weisen Familienunternehmen in der Regel flachere Hierarchiestrukturen, eine höhere Eigenverantwortung der Mitarbeiter sowie eine deutlich stärker ausgeprägte Corporate Social Responsibility auf.
Angesprochen werden Absolventen, Young Professionals und Professionals aller Fachrichtungen, insbesondere (Bau-) Ingenieure, Informatiker und Wirtschaftswissenschaftler (m/w/d).
Der 25. Karrieretag Familienunternehmen findet auf dem neuen GOLDBECK Campus in Bielefeld statt. Bewerbungsschluss ist der 11. April 2022.
Weitere Informationen und Bewerbung auf:
www.karrieretag-familienunternehmen.de
The publisher indicated in each case is solely responsible for the press releases above, the event or job offer displayed, and the image and sound material used (see company info when clicking on image/message title or company info right column). As a rule, the publisher is also the author of the press releases and the attached image, sound and information material.
The use of information published here for personal information and editorial processing is generally free of charge. Please clarify any copyright issues with the stated publisher before further use. In the event of publication, please send a specimen copy to
service@pressebox.de
.