IoT-Technologien - die Qual der Wahl oder: "wag the dog" - wenn der Schwanz mit  dem Hund wedelt!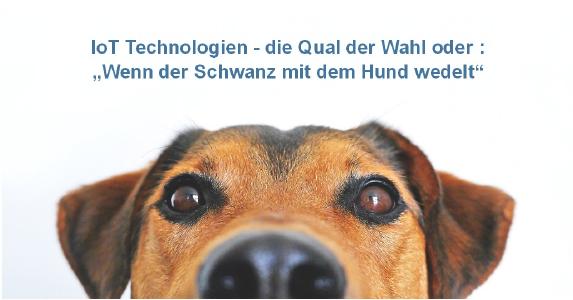 IoT-Technologien stehen in diesem Webinar im Mittelpunkt, denn das IoT, – das Internet-of-Things ist der Taktgeber für Alles das im Zeichen von Digitalisierung steht.
Doch egal worum es sich  dreht – am Anfang steht ein Überblick über die diversen Technologien des IoT.
Denn das Besondere am "Internet-of-Things" ist, dass tatsächlich die Anwendung die IoT-Technologie bestimmt und nicht umgekehrt – also ähnlich wie bei "wag the dog".
Wenn die Anwendnung die IoT-Technologie vorgibt, kann die richtige Technologieauswahl zu einer wahren Herausforderung werden, denn es gibt oft zahlreiche Wege, die ans Ziel führen. Manche sind besser geeignet, manche eher weniger. Wir wollen Ihnen helfen Zeit, Nerven und Geld zu sparen.
Unser Webinar möchte einen generellen Überblick über die verschiedenen zur Wahl stehenden 
Funktechnologien des IoT
 geben. Auf die 
Unterschiede
 hinweisen, 
Besonderheiten
 hervorheben und an Hand von 
Best Practice Beispielen
 erklären, wann sich welche Technologie am Besten einsetzen lässt.
Marius Nickolai und Ralf Schoula – beide Geschäftsführer der m2m Germany, werden gemeinsam das Webinar halten und für Fragen und Anworten zur Verfügung stehen.
Die nächsten Termine für das
Webinar:
  "IoT-Technologien" im März und April sind am:
18. März 2021
, von 15:00 bis 16:00 Uhr
und am
01. April 2021
, auch von 15:00 bis 16:00 Uhr
Die Teilnahme am Online-Webinar ist kostenfrei.
Hier geht es zur Anmeldung
The publisher indicated in each case is solely responsible for the press releases above, the event or job offer displayed, and the image and sound material used (see company info when clicking on image/message title or company info right column). As a rule, the publisher is also the author of the press releases and the attached image, sound and information material.
The use of information published here for personal information and editorial processing is generally free of charge. Please clarify any copyright issues with the stated publisher before further use. In the event of publication, please send a specimen copy to
service@pressebox.de
.