IAS MEXIS GmbH auf der IN.STAND 2021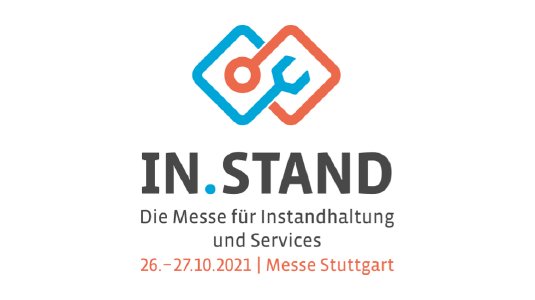 Hybrides Messekonzept: Die Leitmesse für Instandhaltung und Services findet dieses Jahr sowohl analog als auch digital statt. Vom 26.-27.10.2021 haben Aussteller und Besucher die Möglichkeit sich flexibel über die neuesten Trends und Herausforderungen der Instandhaltung auszutauschen.
Die IN.STAND ist eine der wichtigsten Messen zum Thema Instandhaltung. Nachdem sie zuletzt vollständig digital stattgefunden hat, startet sie dieses Jahr mit hybridem Messekonzept – und bietet so Besuchern und Austellern das Beste aus beiden Welten. Auch wir sind an beiden Messetagen vor Ort, um unsere intelligenten Instandhaltungslösungen zu präsentieren und mit dem Fachpublikum in Dialog zu treten – ob persönlich oder virtuell.
Sie möchten an der IN.STAND 2021 teilnehmen?
Kontaktieren Sie uns und sichern Sie sich Ihr kostenloses Tagesticket!
Präsentation des DIVA® ECOSYSTEMS
Am Gemeinschaftsstand des Forum Vision Instandhaltung e. V. werden wir unsere intelligente Instandhaltungslösung
DIVA® ECOSYSTEM
vorstellen, das sich aus drei Bestandteilen zusammensetzt:
Einer intelligenten Instandhaltungsplanungs- und Analysesoftware mit KI – DIVA® DYNAMICS
Der mobilen App – DIVA® GO für effiziente Instandhaltungsprozesse und eine Reduktion der Stillstandzeiten
Einem Web-basiertem Meldesystem – DIVA® NOTE für eine schnelle und umfassende Erfassung von Störungen
Natürlich erhalten Sie auch online im
Messeportal
alle relevanten Informationen, wo wir Ihnen außerdem via Chat für weitere Fragen zur Verfügung stehen.
Zusätzlich bieten wir online "Speed-Datings" an, bei denen Sie im Vorfeld ein oder mehrere Schwerpunktthemen wählen können. So haben Sie die Möglichkeit eine individuelle Produktpräsentation zu erhalten und erfahren in kürzester Zeit, welche Vorteile der Einsatz unseres
DIVA®
ECOSYSTEMS für Sie birgt.
Sichern Sie sich schon jetzt einen der limitierten Plätze!
Fachvortrag im IN.STAND Studio
Das neueste Highlight der Messe ist das IN.STAND Studio, das an beiden Messetagen live Vorträge, Diskussionen und Interviews für Online-Besucher überträgt. Auch unser Geschäftsführers Falk Pagel wird am 26.10.2021 um 13:00 Uhr im IN.STAND Studio referieren. Bei seinem Vortrag
"Vom Cost Center zum Profit Center in der Instandhaltung durch KI und einem intelligenten CMMS"
erfahren Online-Zuhörer und Besucher vor Ort, wie sich Instandhaltungsressourcen intelligent und effizient einsetzen lassen.
Guided Tours des FIR e.V. an der RWTH Aachen
Auch in diesem Jahr lädt das Competence-Center Instandhaltung des FIR e.V. an der RWTH Aachen zu geführten Messerundgängen in Stuttgart ein. Während der 10-minütigen Tour informieren wir die Teilnehmer zum Thema "Vernetzte Instandhaltung – innovative Konzepte von Daten bis Systeme".
Sie möchten an der IN.STAND 2021 teilnehmen? Kontaktieren Sie uns und sichern sich Ihr kostenloses Tagesticket!
The publisher indicated in each case is solely responsible for the press releases above, the event or job offer displayed, and the image and sound material used (see company info when clicking on image/message title or company info right column). As a rule, the publisher is also the author of the press releases and the attached image, sound and information material.
The use of information published here for personal information and editorial processing is generally free of charge. Please clarify any copyright issues with the stated publisher before further use. In the event of publication, please send a specimen copy to
service@pressebox.de
.