Health Care: Luftreinheit & gesundes Klima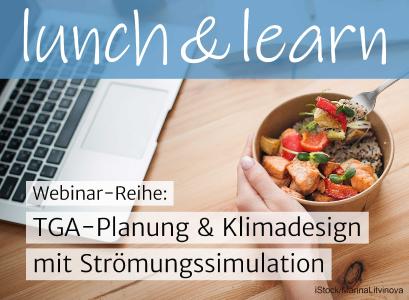 Kostenlose Webinar-Reihe
TGA-Planung & Klimadesign mit Strömungssimulation
11. Mai, 13 Uhr: Health Care - Luftreinheit & gesundes Klima
Wie lässt sich Luftreinheit bei Hygiene-sensiblen Räumen vorabgewährleisten. Wie gewinnen Sie realitätsnahe Daten zur Verteilung von CO2, Aerosolen und anderen gesundheitsschädlichen Partikeln im Raum? Und wie finden Sie das effizienteste Technikkonzept dazu?
Dauer: 30 Minuten
Herzliche Einladung zum digitalen Lunch im Mai!

Immer dienstags bieten wir Ihnen kleine Wissenshappen zur Mittagspause in Webinar-Form. Unsere Strömungsexperten servieren Ihnen
kompakt und praxistauglich 
viele neue Impulse für Ihre tägliche Arbeit und bringen Sie auf den neusten Stand rund um
 die Luft- und Klima-Simulation (CFD)
.
Unsere Wissenshappen sind so bekömmlich, dass Sie nebenher entspannt lunchen können. Dafür erhalten Sie zu jedem Termin ein anderes Rezept für einen leckeren Mittagssnack.
Weitere Themen & Termine
18. Mai 2021, 13 Uhr: Rauchausbreitung & Entrauchung
Ob im Parkhaus, im Pflegeheim oder im Großraumflugzeug: Welche Vorhersagen zur Rauchausbreitung lassen sich bei besonderen Raum- und Nutzungsbedingen treffen? Wie müssen die Technikkomponenten positioniert werden, um schnellste Rauchdetektion zu gewährleisten?  
25. Mai 2021, 13 Uhr: Natürliche Belüftung & Außenklima
Wie können Sie vorab die Wirksamkeit von natürlicher Belüftung überprüfen? Welchen Einfluss haben unterschiedliche Fassadentechnologien 
aber auch Wind und Wetter auf das Raumklima?
Dauer: jeweils 30 Minuten
Anmeldung
The publisher indicated in each case is solely responsible for the press releases above, the event or job offer displayed, and the image and sound material used (see company info when clicking on image/message title or company info right column). As a rule, the publisher is also the author of the press releases and the attached image, sound and information material.
The use of information published here for personal information and editorial processing is generally free of charge. Please clarify any copyright issues with the stated publisher before further use. In the event of publication, please send a specimen copy to
service@pressebox.de
.