ECLASS für Newcomer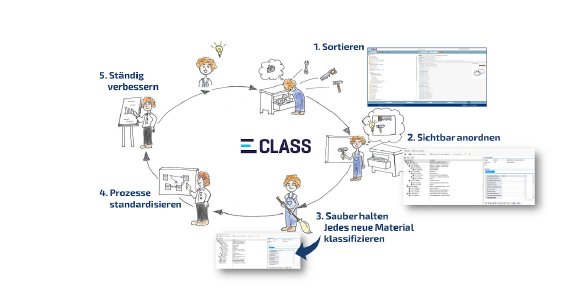 Was ist ECLASS? Und wie kann ich ECLASS erfolgreich und nachhaltig einsetzen?
Ihre Herausforderungen
Keine Standardisierung, unstrukturierte Materialstammdaten
Unterschiedliche Benennungen
Hohe Anzahl an Dubletten in den Systemen
Materialsuche ist schwierig?
Fehlender Überblick der gängigsten Klassifikationsstandards
Keine Kenntnisse über Produktklassifizierung
Webinar-Inhalte
Überblick Klassifikationsstandards für Produktdaten
Grundlagen ECLASS e.V. (Verein, Mitglieder)
Bedeutung, Einsatzmöglichkeiten und Vorteile von ECLASS
Überblick Kosten- und Lizenzmodelle sowie die Erwerbsmöglichkeit von ECLASS
Erklärung Release- und Sprachmanagement (u. a. Einblick ins aktuelle Release und den Änderungen zum Vorgänger-Release, Unterschied zwischen Minor- und  Major-Release)
Mapping von ECLASS auf andere Standards (z. B. ETIM)
Einführung in die Struktur von ECLASS: Klassen-Merkmale-Werte
Einsatz von ECLASS im Warengruppenmanagement und in der Klassifizierung bzw. für die Produktbeschreibung anhand von Praxisbeispielen
Fragen und Diskussionsrunde
Für wen ist das Webinar geeignet?
Abteilungsleiter, Manager und Experten aus den Bereichen:
Materialstammdaten
Beschaffung
Standardisierung
Katalogdaten
Content Management
IT
Ersatzteilmanagement
Wir beantworten natürlich auch Ihre Fragen in unserem kostenlosen Webinar.
The publisher indicated in each case is solely responsible for the press releases above, the event or job offer displayed, and the image and sound material used (see company info when clicking on image/message title or company info right column). As a rule, the publisher is also the author of the press releases and the attached image, sound and information material.
The use of information published here for personal information and editorial processing is generally free of charge. Please clarify any copyright issues with the stated publisher before further use. In the event of publication, please send a specimen copy to
service@pressebox.de
.